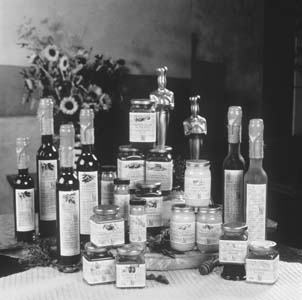 Cookoo for Lulu
How to turn a hausfrau into a home chef in 30 seconds
By Tracie Broom
Sometimes you all need a little help in the kitchen. You know, on those dinner-party days when you've exhausted yourself finding that perfect low-priced, super-fresh stack of tuna filets, only to find that you have nary a drop of inspiration to make even the limpest sauce for the blasted fishes. But your waiter friends are coming over! They have taste and you're pressed to impress. Why not pull out a couple of secret weapons, unscrew their high-quality jar lids and unleash a wicked stream of nouvelle flavor onto your precious piscine booty?
On many a restaurant-cooked Chilean sea bass have I enjoyed fresh romesco sauce, that sassy Mediterranean blend of almonds, red peppers, lemon juice and olive oil. In my own kitchen, I have integrated the contents of my little square jar of Romesco Sauce ($6.50) from Restaurant LuLu into a number of fine, snappy dishes. This sauce is well-balanced, moderately spicy and all around tasty. Olive Tapenade ($8.95)? On my homemade salade niçoise? Oh, yes! And while you're at it, hand over another one of those boiled eggs. I want to put some tasty chopped black olive goodness on it and eat it up. It's pretzel-dippin' good!
Honey, honey--you won't be able to pry your lips off of Chef Jody Denton's Lavender Honey ($6.50). "I could make that myself, I got a lavender bush on my front porch!" You say it but you'll never play it. Go out and find yourself some lavender honey, because when you get it, your toast-eating, chicken-roasting, tea-drinking life will change forever--it's terribly sophisticated. LuLu also sells a White Truffle Honey ($9.50), which is so sophisticated that it's difficult to match with any sort of real food. If I were a professional chef I am certain that I would find a place in my heart for it, but then I would not be the glamorous home chef that I am today.
I finally was able to work the French Mayonnaise Sauce ($6.50) by making myself a beautiful little tuna salad with grapes, pecans, and apples. Until then, I had been hard-pressed to pair that mayo with anything! I think it was the fish that brought out the mayo's inner child. I had tried the French Mayonnaise with shrimp to no avail. Less encouraging was the scourge of the Garlic Aioli ($6.50) and the Spicy Red Pepper Rouille ($6.50)--other, more aggressive mayos which ruined many an asparagus spear before I could get my head together to ban them from my kitchen. I don't know why the aioli and the rouille turned out to be so acrid, but they did. The French Mayonnaise, though, has not been tainted by flavor overkill. It has found a home in me.
Honorable mention goes to the Currant Balsamic Vinegar ($15.95). I had wanted the Fig Balsamic Vinegar, but they were all sold out, and for good reason--I hear that it is everything for everyone! The "special" little sister, Currant Balsamic, is a light, sweet addition to anything creamy, or to reduced sauces which lean toward the Moroccan. Personally, I enjoy the vinegar drizzled over a hunk of fresh bread dipped in low-fat cottage cheese. Weird? Possibly. Trashy? Sure. Delicious? Oh, yes .
[ San Francisco | MetroActive Central | Archives ]