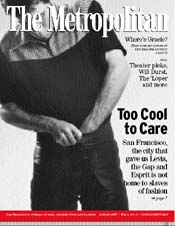 August 1997
Features:
Too Cool to Care
San Francisco is a city that defies fashion trends. Or is it just the worst dressed city around?
At Bimbo's and Eleven, you couldn't throw a rock without hitting a beautiful person. Not that you'd want to.
Plus, real people photographed at two S.F. parties; what the tourists are wearing in S.F.; anatomy of a fashion magazine cover; and where to find locally designed fashion in the city.
The Durst of Times: There must be 50 ways to spend $2.8 billion.



Yuppie Pizza: Updating a classic or committing culinary genocide?
The Good Life: Life, love, fun and games in postwar S.F.



Stump the Clerks: Just how good are San Francisco's independent video stores?
Fishes Story: Director Finn Taylor dreams with fishes and dances with Hollywood.



Way of the Weird: The Gun and Doll Show mixes rock with (ulp!) performance art.
Radio Silence: Morning show host Darian O'Toole outlives Alex Bennett, but not by long.



Midnight's Children at Fifty: Like India itself, the Desai sisters' mural at the Asian Art Musuem is a work in progress.



Treading the Boardroom: Rather than quitting their day jobs, Bay Area performers find unusual ways to make theater pay.



Please don't forget to write! The Metropolitan welcomes letters. Like any great work of art, they should be originals -- not copies of letters sent elsewhere. Include address and daytime phone (for verification purposes only). Letters may be edited for length and clarity or to correct factual inaccuracies known to us. Postal: Metropolitan Letters, 1776-A 18th St., San Francisco, CA 94107. Fax: 415/487-9094. Email: [email protected]. Emailers, please include name, city of residence and phone number. Letters printed will list email address unless otherwise specified. Letters to the editor are not currently published in the online version of this paper.