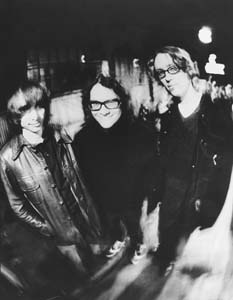 Stay-free: Oranger remains true to their music.





Not From Concentrate

Local rock darlings Oranger squeeze their own do-it-yourself rock

By Andrew Shriver

Plucked out of obscurity after playing together a mere two years, the San Francisco-based trio Oranger has quickly gathered momentum and a dedicated fan base, making the band a standout gem of the Bay Area rock scene. Lush harmonies, '60s-soaked song structures and ass-shakin' drum grooves set Oranger--Mike Drake, Matt Harris and Jim Lindsay--apart from the pack.

In Oranger's world, hypnotic vocals fuse with catchy loops and insane drumming to create sweet melodies. Along with their impressive music, the Oranger boys have principles. While most musicians dream of a lucrative deal with a major label, fame, money, limos and a generally excessive lifestyle, the members of Oranger remain true to their music and to themselves; selling out is not in their repertoire.

"The current state of major labeldom is kind of a quagmire," laments drummer Lindsay, reflecting on a time not so long ago when every major label ravenously courted the band. "Sure it's flattering to have a major approach you, but the danger is not knowing what's behind the door. In our previous ventures, we've seen what's behind those doors, and we can't sacrifice the art of our music."

So what's a band to do once they've given the major labels the almighty bird? Quite simply, start your own label. "It's better for us that we decided to wait," notes guitarist/vocalist Drake. "Nothing really felt right. And immediately after we decided to take it slow, the whole Seagram's megamerger happened. Our career would have been over before it even started."

Enter Amazing Grease Records. Run by musicians for musicians and founded through the collaborative efforts of Oranger, Ben Lutch (of Excite fame) and Scott "Spiral Stairs" Kannberg (co-founder of indie godfathers Pavement), Amazing Grease is far more than a do-it-yourself label run by a well-known rock star: helping other bands get their material heard without sacrificing their art is the ultimate goal.

"Amazing Grease is le Resistance of the music industry," says bassist/vocalist Harris. "Not in the sense that we're backlashing against the larger organizational corporation that's out to get us, but in the sense that what we're doing is very underground and we're doing it our way. And yes, there is a heavy pretense in this endeavor because we are quite opinionated in the music we like, and therefore we're putting out stuff we like. But there's a need for that."

Addressing this need, Oranger's debut on Amazing Grease, Doorway to Norway, hits the streets Sept. 21. Fans will have to be satisfied with a fairly short album, though: it's a mere eight songs long. Alas, as Mike points out, "You simply can't put all your number ones on one album. Especially your first" .
---
Oranger plays Oct. 5-6 at Bottom of the Hill with Super Furry Animals. Call 415.621.4455 for more info.
---
[ San Francisco | MetroActive Central | Archives ]