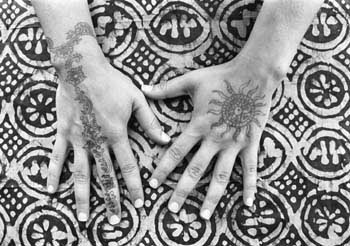 Indian Ink
Ancient art and modern girls
By Dara Colwell
For those of you coming down from the whole Burning Man experience, reliving that tribal vibe is as easy as clicking your heels together and entering Cinta Salon. Located at 23 Grant Ave. above Bebe clothing store and across from Wells Fargo, this former art gallery decked in cherrywood floors offers Mehndi, or henna tattooing.
The 5,000-year-old practice, which has wound its way through India, Africa, the Middle East and right on to Madonna's talented fingers, has become tremendously popular over the last few years. Mehndi, a mostly feminine art form, has traditionally been a sign of protection or blessing used in rites of passage such as marriage. In San Francisco, however, it's more often a work-up to a more permanent ink.
Bhavna Patel, a henna artist hailing from the Indian state of Gujarat, has created her own book full of elegant designs to choose from. Or you can design something yourself for any body part you wish to be covered. On the morning of my visit, Bhavna had tattooed a design on a pregnant woman's belly--the process is as whimsical and creative as the imagination allows. And it's fast, too. Ms. Patel, who practiced drawing with henna throughout high school, whisks through it.
Bhavna mixes henna together with black tea and eucalyptus, which stains well, not to mention it smells gorgeous. The henna is applied with a plastic cone--rather like those filled with icing to decorate a cake--and once the design has dried, a mixture of lemon juice and sugar is applied to help it harden. The design originally appears a blackish brown, but once the henna has been scraped off (usually the next day), the skin is stained a deep ochre which lasts for two to three weeks before fading, depending on how often you wash.
As I sat having this done, three or four women approached me, cooing over how fantastic it looked. Over the next few days, at bars, restaurants, grabbing a coffee and just walking around the city, I was stopped repeatedly with enthusiastic gushes of "How fantastic!" and I must admit, all the attention made me feel rather exotic. When the design fades, it'll begin to resemble a fairly heavy nicotine addiction, but until then I'm milking the attention!
---
Cinta Salon, 23 Grant Ave; 415.989.1000. Basic designs are about $20-35; prices vary depending on the intricacy and amount of time involved.
---
[ San Francisco | MetroActive Central | Archives ]