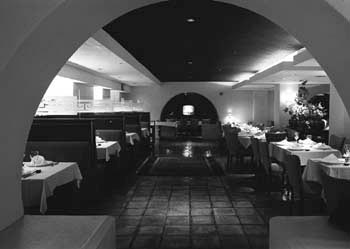 Photo by Farika

Shanghai Surprised

There's more to China than takeout cartons

By Michael Stabile

For a while, it was hunan, Cantonese and Mandarin--the basic trinity of Chinese cooking. This, of course, doesn't take into account the American (and my family's) tendency to group all such cuisines together. Growing up I had the "Yangtze Kitchen" of Netcong, N.J., to thank for my familiarity with Chinese food: mildly spicy preparations of beef with broccoli, General Tso's chicken, sweet & sour pork and chicken fried rice. Growing up, Chinese food was oily and best washed down with a Pepsi in front of an episode of 60 Minutes and Murder, She Wrote. Even some 15 years later, I have a hard time thinking of Chinese food as haute cuisine. Even after countless meals at Tommy Toy's and Eliza's and Firecracker and countless hours crying about June and the crab in The Joy Luck Club and any number of other reminders that Chinese food does not come in a box of waxed cardboard, it is hard to remember that before Mao and before the Long March, China was a land of decadence and spice.

The city of Shanghai embodies that spirit more than traditionally cosmopolitan places like Beijing, because, as a port city, it was more open to influence and fusion (a movement that, no, did not begin in California). George Chen (of Betelnut fame) opened Shanghai 1930 with a restorative flourish a year ago just south of the financial district, blending the styles of prewar China with the flavors of its municipal jewel. Shanghai 1930 preserves both traditional Chinese plates and the French service exported to Indochina, but more important is the attitude of exclusivity and luxury imparted to the cavernous space itself. Forced down the proverbial (and somewhat tongue-in-cheek) "red" carpet, a prospective diner is directed underground--as if to a speakeasy or opium den. A backlit blue cocktail bar adds to the mood, though one is more likely to find Grey Goose vodka than they are bathtub gin.

The menu is as lengthy as Mao's little red book--filled with delicacies of each Chinese province, but all influenced by the seafaring Shanghai locale. A warm duck salad, served on tacos of iceberg lettuce--a vegetable as overlooked as it is maligned--makes a delightful pairing with a crisp martini (which, if you haven't figured it out by the time you reach your table, is what you should be drinking). The dim sum is as delightful as a Godiva truffle, with tightly wrapped packages revealing luscious nuggets of shrimp, vegetables and pork. Fish on the Vine is presented in high-deco style, with deep-fried halibut served in the formation of a bunch of grapes dangling from a line of garnish. It seems almost pointless to go on about a menu of such length, but I hope--suffice to say--that such comfort (but not comfort food) is worth the glamorous gin headache the next morning. Since Mercury closed a few months ago, we've been hard-pressed to find a dining room with enough ambiance and excitement to warrant a fulfilling meal and night on the town. We need look to the past to find our evenings' future .
---
Shanghai 1930, 133 Stewart St. 415.896.5600.
---
[ San Francisco | MetroActive Central | Archives ]