Visual Arts Picks

Picks by Jack Shamama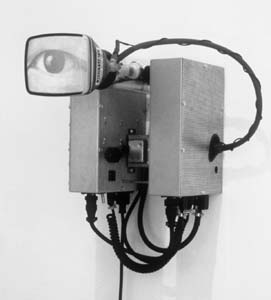 Friendly Machines
Oct 14-Nov 13; Tue-Fri 10:30am-5:30pm, Sat 10am-5pm
Haines Gallery, 49 Geary, 5th Floor; 415.397.8114
How many women do you know who have their cell phones programmed to say "Hi, Cutie!" when they turn them on? We're constantly trying to infuse life into the machines that surround us, usually with little luck. After all, it's 1999 and they promised us we'd each have our own witty robotic sidekicks by now. Probably why Alan Rath's such a Bay Area art world Golden Boy right now. He tries to put the soul into his biomechanical anthropomorphic pieces, only this time with mixed results. A trained electrical engineer, Rath returns to SF after a national art tour with "Friendly Machines." Rath relies heavily on the cathode ray tube in this show, but the pieces lack a certain subtlety found in, say, Nam June Paik's own CRT work. In the case of Inspector, an 8-foot-high structure has said tube in the creature's "heart" projecting a big red eye, which stares intensely at the viewer. The Panopticonish eye gazing right back at the viewer, who's watching who--it all sounds vaguely familiar. Perhaps he's trying too hard with this one, as his best pieces seem to be the ones that quietly mimic the most simple and unassuming of human movements.
---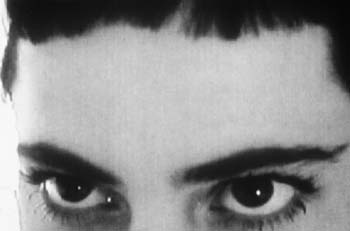 Three French Media Artists Explore the Obvious and the Unseen
Thru Nov 20; Wed-Sat, noon-5pm
New Langton Arts, 1246 Folsom; 415.626.5412
"The Côte Ouest: A Season of French Contemporary Art" is an ambitious series of exhibitions bringing current French artists to 24 museums and galleries up and down the West Coast. The three artists being displayed at New Langton Arts are more about quiet social criticism and aesthetics than pop sensibilities of self-promotion. Like Stereolab's Laetitia Sadlier crooning in her smoky French accent, "What is society good for?" the work here is dripping with all the postmodern theorists we learned to love in our liberal arts colleges. Marie Sester uses X-rays of trucks and engines filled with garish images from the Las Vegas strip. It's Baudrillard's America that she's examining here, and as with Baudrillard, it's hard to figure out if she's praising it or making fun of it. Rebecca Bournigault's self-portraits in video and photography examine the limits of objectivity as the viewer searches to find meaning in the seemingly banal à la Barthes' The Third Meaning. Don't get me wrong, though. You don't have to know your Foucault from your Lacan to appreciate the sexy, thoughtful work on display here.
---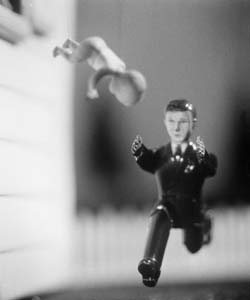 Facing Fear
Thru Oct 30; Wed-Sat, noon-5:30pm;
San Francisco Arts Commission Gallery, 401 Van Ness; 415.554.6080
I was pretty amazed at how boring Gus Van Sant's Psycho remake was. While trying to watch it, I kept thinking, "He needs to spruce it up a bit, add some more gore." Why did he bother? What was scary four decades ago isn't scary anymore. Part of a larger schedule of events including film and performance, "Facing Fear" is a multimedia group exhibition looking at how the notions of what we find scary have changed since the '50s. The LA-based Davis and Davis contribute a series of vibrant, saturated color photographs of toys acting out modern anxieties with some very humorous results--baby falls out a window while a father runs to try to catch it, an astronaut's life cord snaps and he floats away from his spaceship. The most notable of the bunch are a series of photographic nude self-portraits by Dutch artist Astrid Hermes. In each slightly larger-than-life image, her body is contorted, at first seemingly digitally altered. Upon closer inspection, you realize that she's just very ... well ... flexible. It's difficult to read these forms--you can't really tell if they're dancing, falling, fighting. They leave you on edge, and you're not sure why, like a good horror movie.
---
[ San Francisco | MetroActive Central | Archives ]