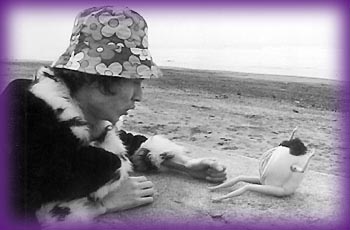 Hello, I Love You: In 'Monkfish Dream,' a slacker falls for a disembodied pudenda.

The Real Reel Festival

Notes on an unruly cavalcade

By Sullivan Bianco

Let's take a second and run a buzzsaw through the Landmark Theaters ad: "The language of film is universal" in five or so languages. Shred it, peel it apart from the image it accompanies and forget what you hear. What do you see? A filmstrip with the Hollywood hills and a palm tree. Now what do you hear? "The language of film is Universal." Or Paramount, Tri-Star, Miramax or DreamWorks. The choice ain't yours, in other words.

The herd of independent films at this year's Film Arts Foundation festival attests to the scrambled interests of the NoCal "scene." The SF International carries a good deal of prestige as "the oldest film festival in the Americas," but does it have centerpiece programs like "The Power of Pussy"? Each year the Film Arts Foundation, itself a vital source of funding, rental space, classes and overall aid to local independent directors, compiles film and videos from local makers and works against the handicapping and marketing tactics that inevitably creep into nearly all film festivals. San Francisco, long noted for its "multi-culti" fests--gay/lesbian, Jewish, tranny, Asian American, Arab, women's--finds in FAF a giant crucible. Better still, traditional narratives are likely to bump into experimental movies, as in Saturday night's programming of a confrontational, noxious undergrounder (Behold the Asian, on the 8pm "Crackpots" program) preceding a glib, reptilian indie/Wood-ish tale of a pet-shop salesman (Suckerfish, at 10pm).

Dancing in The Streets: Some other productions from the Film Arts Foundation.

At barely five days long, the fest is naturally a daunting whoosh of images, velocities. Craig Baldwin's latest work, Spectres of the Spectrum, a cunning, reverberative science un-fiction two years in construction, leads off. Restless, frantic and fanatical, it is the most romantic film yet from the found-footage guru, melding dirty, remembered textures (a 1950s science film enacting the "birth of the universe," an old Colgate Comedy Hour where an ape-boy pushes three cameras into a crooner's capped teeth, a scrapped clip of a mad scientist amid doc footage of broadcast inventors) and alter-narrative guerrilla, revolutionary acts of telepathy.
At the opposite spatiotemporal pole is Fraser Bradshaw's Every Day Here. If Baldwin distinctively can make thousands of minced and disparate styles and images perform, Bradshaw illustrates how an arrested (11 shots in 11 minutes), traumatized look at a Mission district house and the elliptical sounds of its angry occupants can enmesh a viewer. Not since Safe have rooms and furniture emitted such muted, distraught signals. Bradshaw, whose accomplishments as a cinematographer are scattered throughout the festival via All Smiles and Sadness' gray, oatmeal-y kinescopic video and Sunday afternoon's sunny Skittles colors, gives Every Day Here a measured matte drabness so charged that festival associate director Kevin Cunningham nearly created a programme around it called "Cinema."
If anything distinguishes the FAF programming this year, it's the high plane of Funk, whether in the eerily zoned or invigorating senses of the word. A beanpole slacker lovestruck by a vengeful dead woman's disembodied pudenda (Monkfish Dream, in the aforementioned "Pussy" omnibus) seems to live in the Cars' "You Might Think" video, complete with his own day-glo bubble-gum band living captive in a tiny aquarium. Monkfish is a most unabashed love story. She Smokes, a lithe comedy about a black couple swinging in and out of each other on a nicotine pendulum, deploys some alluring, screwball acting. It's grouped with Pump, a deadpan, genuinely sad-funny take on a heart spurned and (literally) pawned. Pump's premise on paper (Girl loses Girl, trading heart-pump for accordion pump) seems sugary, but onscreen is grounded in a distanced, blood-colored bluesiness, as crestfallen as the tumbling shower of pills (modelled after Sirk's Imitation of Life bauble cascade) in the emo-ambient Lesson 9.
Rock Hudson--the scarred, helpless one from Seconds--is invoked in Kurt Keppler's Metalman. Sluggish and delusion-bleached, it follows a porn star, Sean Mitalski (Chris Enright), tracing a path through his erstwhile comeback and descent into guinea-pig-dom through a series of memory gaps. Enright's doughy torso, replete with an unhealing, unforgiving gash, resembles an X-Files toy action figure, pathos being wrung not inconsiderably from his sad posing and sweaty moustache. Metalman manages to be plenty pungent as an acrid, downbeat antidote to in-FX-tual, ritualized sci-fi.
The documentaries this time around are similarly category-defiant. A nearly censored portrait of a filmmaker's Vietnamese uncle, a folk-medicine "master" who lances, coats and treats Cronenbergian cysts (Tiger's Apprentice), is paired with a short on terminal cancer (Jump). Alongside these are PBS-readymades, testaments with uplift like Surfing for Life (an eyeful of geriatric wave-riders, some as old as 93), or the grim Death Leap, with its exploration of Golden Gate Bridge suicides.
Feverishly mixed, the madness of the FAF festival offers primal, meaty, singular movies. Faced with so many choices, there is only one option: dive in .
---
The FAF programs screen Nov 3-7 and 10 at various times and locations. Tickets: $6-$7. Call 415.552.FILM for details.
---
[ San Francisco | MetroActive Central | Archives ]