The Portfolio

Photographs by Mike Perrson

To be a male model, the first thing I need to put together is a snazzy, diverse modeling portfolio. Something showing my many different sides, moods and looks. At a glance, my portfolio might appear normal. On closer inspection, something's slightly off; something's just not right. With the help of a photographer friend, I put together the ultimate modeling portfolio:
Underwear Harmon
I'm doing various activities in my underwear. Not just one pair of underwear, but two--one over the other. Just normal things people do when wearing two pairs of underwear. Looking contemplative. Holding a camera and pointing off into the distance. Standing on a chair. Hugging myself.
Man-About-Town Harmon
Dressed in suit, tie and muddy combat boots, I'm out for a romantic evening with a sultry, beautiful woman. That's why we pose at a bus stop. Also, I'm a man of action: talking on a cell phone, looking at my watch and holding a briefcase. Our romantic carriage/bus approaches to whisk us away.
Insane Harmon
Wearing a wife-beater tank-top tucked into my pulled-up boxers, I hold a large, sharp kitchen knife while standing underneath a stuffed owl. My eyes say, "Something's not right with this man!"
Sporty Harmon
Whoa, I'm an urban, action-sports kind of guy! A typical day is playing roller hockey in the middle of the Powell Street cablecar turnaround. I work hard! I play hard! I go to these extremes in my inner-city playground.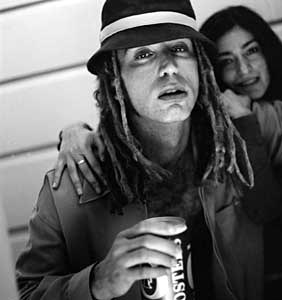 Harmon the Lad
Oi, mate! With my best Liam Gallagher/Oasis look, I enjoy a big 24-ounce can of Foster along with me favorite bird. It's a good thing me favorite bird's around. I can conveniently rest my beer can on top of her head. Are you looking at me, mate?
[ San Francisco | MetroActive Central | Archives ]