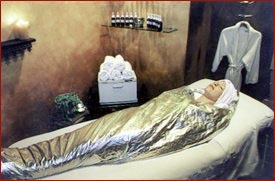 Beauty Rolls
The Novella salon and spa offers the benefits of becoming human sushi
By Dara Colwell
If the idea of being swaddled in moist seaweed seems more like a fraternity prank than a beauty treatment, think again. Novella salon and spa's detoxifying seaweed and algae body wrap is an incredible pampering experience which leaves your skin feeling as smooth as a newly waxed floor--or a baby's equally smooth (and unwaxed) bottom.
Body wraps are not for the shy, squeamish or claustrophobic, those with shellfish allergies or overly sensitive vegans. Full nudity and a certain air of nonchalance are required--or being slathered in a hot seaweed marinade and wrapped tightly in mylar (a space-age material invented by NASA which resembles lightweight tinfoil) may prove to be a trial.
The process works like this: an esthetician (in my case spa director Debra Campo, an engaging woman with a fierce sense of humor) lightly scrubs your body to exfoliate the skin and make it receptive to the seaweed. Next, the seaweed paste is applied to both sides of the body; it feels like having hot, thick Nutella smeared on with a paintbrush. Not an unpleasant sensation, all together. Then you are wrapped in warm, wet towels and several layers of mylar and set to cook. The towels can feel quite heavy--this is where the claustrophobia comes in--so Debra remained in the room with me to ensure I stayed calm and at ease. While the algae did its thing--rehydrating, toning and detoxifying my skin--Debra mixed together a blend of essential oils for an after-treatment massage.
The entire experience, going from moist to dry to well-oiled and perfumed, is incredibly relaxing. The salon itself oozes peace and nurturing. The combination of ochre faux-finished walls and amber lighting with woodsy aromas and gentle music harks back to those exquisite caves found in 1001 tales of the Arabian Nights. Once you've stepped inside, the outside world and its anxieties seem far, far away.
The spa also offers a number of specialized body treatments, including an aromatherapy body wrap using essential oils, a loofah salt glow which buffs the skin with sea salts and oils, a customized body masque which rejuvenates and revives the skin, and an essential back treatment using vapor steam and an herbal masque. Treatments cost from $60 to $85.
---
Novella is located at 2238 Union. Call 415.673.1929 for a reservation or visit the website: www.novellasalonandspa.com.
---
[ San Francisco | MetroActive Central | Archives ]