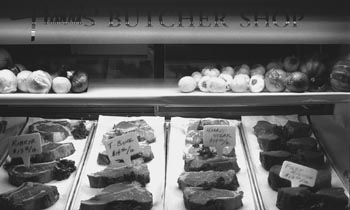 Cattle Call
With holidays of poultry excess dead ahead, it's time to get your beef on
By Michael Stabile
Ok, I realize that an article on the virtues of red meat is about as timely as a cigar-smoking, martini-drinking swinger-redux. But there's this whole high-protein/low-carb diet craze (which, again, is only slightly more timely than Susan Powter's "Fat makes you fat!" mantra but seems to have lasted longer). All disclaimers aside, I've noticed that I've been ordering steak everywhere I go, and I suspected that doubling up with a review of steakhouses might push me over the edge, thus allowing me to once again hit the gym and the salad bar.
The Red Lobster of beef, Ruth's Chris Steak House--ever-popular but idiotically named--seemed a likely enough first stop. Granted, I could have been in Louisville, Los Angeles, New Orleans or New York and been presented with the same menu, but as Rory Calhoun eloquently said in Motel Hell, "Meat's meat and a man's gotta eat." He was referring to the garden of humans he was harvesting in his backyard, but the point is the same. When you crave the protein fix, it doesn't matter if the menu's innovative or mass-produced. The proof is in the poivre.
While I'm willing to trust franchised steak menus, I'm a little bit more skeptical about franchised wine lists, so I stuck with a martini to accompany my petit filet mignon (I love steak, but I love my waistline, too). But first things first--crab-meat-stuffed mushrooms. When I was growing up, stuffed things were of the highest culinary order. Especially when stuffed with crab-meat. Butterfly shrimp stuffed with crab-meat? Who could pass that up in 1984? Not I.
Butter seems to be the secret to everything at Ruth's Chris. Not so innovative, but delicious nonetheless. Mashed potatoes floating in butter and topped with more butter. Creamed buttery spinach. Steak broiled in butter. Great steaks, short life span.

Gorge-ous: Stuff yourself silly at Harris' in a setting worthy enough for a movie mogul.
Harris' Restaurant, located a few blocks down from Ruth's Chris, is less reliant on milkfat for flavor and more on a semi-mysterious (to me, at least) dry-aged beef process which ensures some sort of depth of flavor and proper fat marbling. Harris' is a cross between a high-end butcher and a rat-pack dining hall. High ceilings, chandeliers, banquet booths, crummers and attentive waiters. The perky hostess was charming and warm and (as I was informed twice) had most certainly not done cocaine since 1989.
Unfortunately, I fell for the Truman-esque menu classics like Steak Diane and Peppercorn Steak and, for dessert, Baked Alaska. The two former dishes were savory enough (although perhaps a bit too savory for the Californian palate) and I found myself wishing I had chosen a simpler beef dish which showcased Harris' famous aging process more directly.
I'd go back, but now I'm sick of beef. And if I starve myself until Thanksgiving, I might just make up for the inevitable holiday weight gain .
---
Ruth's Chris Steak House, 1601 Van Ness, 415.673.0557.
Harris' Restaurant, 2100 Van Ness, 415.673.1888.
---
[ San Francisco | MetroActive Central | Archives ]