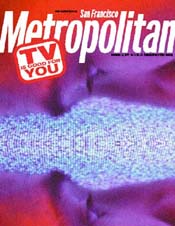 November 22, 1999
Cover: Feed Me TV
Four arguments for the avid consumption of television. Plus: Rating TV's newest Creeks and Geeks.



Job Interview: Jeff Shipley, Gilbert Tripp and their co-workers specialize in exotic plant creations at Ixia on Market Street.
Tara's Advice: Arms and the man.
Global Fashion: While European designers chase the uniformed dragon of the 1980s, Americans revel in the mismatch.
One Card Monte: Mark Ewert returns in a smaller outfit.
Turn Styles: A Hegelian night of drinking with writer J. David.
Millennial Libations: An alcoholic tribute to a screen legend.



Avon Calling: Searching for an American icon.
Concrete Runway: Akiko Ishibashi at Market & Church.
Southern Exposure: South to the Future takes gift-giving into the next millennium.
Visual Arts Picks: Reviews of 'Making Change: 100 Artists Interpret the Tzedakah Box,' 'Photographs by Fakir' and portraits by Caitlin Mitchel-Dayton.



Shadows of Noir: The Roxie's week of Universal noir is highlighted by Billy Wilder's 'Double Indemnity.'
What's Upfront: Horror, film and electronica find their common roots in 'Wavelength.'
Film Picks: Reviews of 'Dial M for Murder,' 'Felicia's Journey' and 'Grand Illusion.'



Fop Music: Momus plays the dandy--and just about everyone else--on 'Stars Forever.'
Music Picks: Reviews of the latest CDs by The Muffs and Melanie C., plus a collection of female artists from the 20th century.
Club Guide: Disco divas, hip-hop connoisseurs and salsa suaves to flannel-clad pinball players, jazz luminaries and more.



Millennial Elixirs: A glance at the designer soda-pop market produces Y2K jitters.



Plain as Crust: Kent Haruf's 'Plainsong' is yet another book about life on the prairie.
Book Picks: Reviews of 'Animal ER' and 'The Worst-Case Scenario Survival Handbook.'



Please don't forget to write! The Metropolitan welcomes letters. Like any great work of art, they should be originals--not copies of letters sent elsewhere. Include address and daytime phone (for verification purposes only). Letters may be edited for length and clarity or to correct factual inaccuracies known to us. Postal: Metropolitan Letters, 1717 17th St., San Francisco, CA 94103. Fax: 415/487-9094. Email: [email protected]. Emailers, please include name, city of residence and phone number. Letters printed will list email address unless otherwise specified. Letters to the editor are not currently published in the online version of this paper.