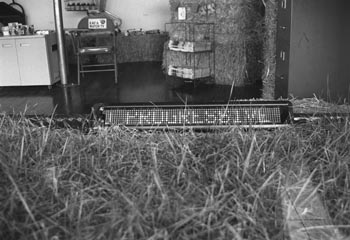 Photograph by Farika

Southern Exposure

South to the Future takes gift-giving into the next millennium

By Tracie Broom

Who says it sucks to be a transplant in San Francisco? It doesn't smart too much if you're a Southerner (as in Dixie) or have a green card, because there's one store at least that will give you a 10 percent discount if you show your credentials--not that you won't get some flak for driving up rents in our fair city by your very presence. No surprise there; putting the bellows to the flames of awareness is what the digerati storekeepers at South to the Future are all about.

There's nothing like South to the Future, who support themselves by designing websites--including the recent GrayDay.org site, a direct thwart of the copyright Nazis at GreyDay.org. Various versions of the official South to the Future website exist to catch different angles of the operation. With all of their web coverage, these East Mission artists still keep a low profile while concocting subtle and subversive conceptual product. They're busy beavers, too. At sttf.org, their long list of proposed projects includes a corporate-sponsored 24-hour constant commute, an open house subterfuge in the Mission, a documentary on loft living and CSPAM.COM.

At their retail shop at 21st and Bryant, STTF sells an array of cool and challenging gifts and products. The prototype Bi-Polar Bear is a cuddly stuffed animal which, when squeezed, announces a message of either love or fear. A Gift Called Justice is a big hit, containing four hand-made black boxes imprinted with JUSTICE in white ink. Instructions included--reformers be proud. ... South to the Future sells books in Spanish on how to become a webmaster, polemics by Weekly World News columnist Ed Anger, and periodicals like Vanidades, Emigre, Juxtapoz, Business Week and The Economist.

The most popular offering at STTF comes in small, nondescript bottles: HQ2O. This divine liquid is marketed as "natural spring water from the fountains of cyberspace," and that's just what it is--operatives pilfer drinking water from the office coolers within such high-tech fortresses as Wired, Yahoo!, Apple and Xeroc Parc, then bottle the ethereal stuff in sterile containers. The mind-expanding elixir is sold by the shot, at six or seven dollars a pop, in a number of hip SOMA and Mission watering holes.

Also up for grabs at the store's Potrero/Mission location: FOR RENT, FOR SALE and FETCH T-shirts; Critter and Spinney windup toys; cherry-red manual lawn mowers; FREEDOM security guard jackets; and techno guayaberas.
---
Store hours are somewhat goofy: South to the Future is open Wednesday, Thursday and Friday from 6 to 9pm, and Saturday from 2 to 4pm; visits may be made by appointment as well. It may well be worth it to give them a call. South to the Future, 2309 Bryant St, 415.789.8383.
---
[ San Francisco | MetroActive Central | Archives ]