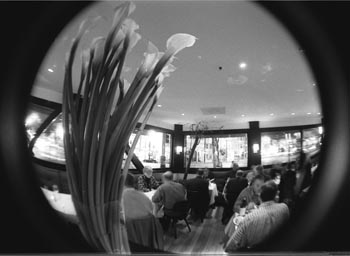 FRANKly, My Dear
A carpetbagger takes advantage of Upper Market's culinary devastation
By Michael Stabile
Upper Market has always struggled to retain decent restaurants. Mecca has stayed the past few years and the Zodiac Room keeps changing to fit the moods of the crowds and the season (DJs? Lounge? Cocktail bar? High-end restaurant?), but generally anything west of Zuni has had difficulty making ends meet without resorting to glorified takeout and the needs of budget gourmands. All hail La Salsa and Pasta Pomodoro!
Boston Market né Chicken was one of the superstars until its Ponzi-scheme franchising forced its closure. In any case, there the abandoned ugly corner space stood until--voilà (or at least within a week or so)--JOHNFRANK appeared, with a facade and transformation to go with its imposing all-caps-one-word name.
JOHNFRANK (attention-getting, no?) deserves a lot of clamor, which it gets, owing to the volume of the witty repartee echoing through the dining room during dinner. Luckily, my reservations weren't until 10pm, so the prattle of homosexuals et al. had died down somewhat and my appetite was a few beers into digestion mode.
Challenging Upper Market's inclinations toward cuisines pan-Asian, JOHNFRANK offers haute American cuisine (if such a thing exists) with flourishes of Italian and French bistro style. Flourishes are everything on Upper Market, and JOHNFRANK uses them to full advantage, starting (coincidentally) with the appetizers. Country pork terrine is accompanied by a fennel-pear salad. I requested a low-fat version and was laughed at, deservedly so. The sour-cherry stuffed quail was at once filled with flourish and all-American. I imagined I was a giant (the fi-fie-fo type, not the Andre kind) eating a whole Thanksgiving turkey all by myself. I made an absolute mess of the poor bird, delicious as it was, though even Emily Post acknowledges that with small fowl there is the necessity of eating straight off the bone. Paired with my freeloading yet cute date's celery root soup (with crispy bacon!), it was totally, like, an appetizer feast worthy of William Bradford.
The entrees veer more toward the classic American with occasional tastes of Provence and Tuscany, as current trends dictate. The grilled lamb was a perfect rare-to-medium-rare meat so supple it might as well have been fondue. The minted onion relish with which it was paired was less exciting in the wake of the baby sheep, and the accompanying mashed potatoes floated the dish in wispy clouds.
Butterfish can be one of the best dishes on any restaurant's menu, but if it's cooked poorly it can taste like--well, it doesn't taste all that great. JOHNFRANKS's wood-fire-roasted butterfish was moist and flaky and a welcome alternative to that other overexposed high-fat fish favorite, salmon. Flourishes of garlic and anchovies dress up the fish for a night on the town.
JOHNFRANK would be a delicious addition to any neighborhood, but in quality-food-starved Upper Market, it's like a desert oasis .
---
JOHNFRANK, 2100 Market St (at Church), 415.503.0333.
---
[ San Francisco | MetroActive Central | Archives ]