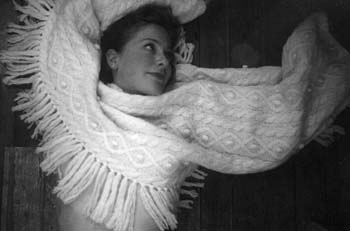 Chillin' Chilean
Q: What has no arms, one head and optional fringe?
By Katy Bell
Wool, hand-knit, felt, adorned with jewels, finished with tassels, with hoods and without, ponchos are the hottest bit of skin cover this winter season. I had a poncho once, when I was about 10; I wore it incessantly. I loved poking my fingers through the quarter-sized holes and retracting my head inside, creating an effective tent when I needed a private moment with myself.
Now, I am not so sure about my interest in weaving a new hip poncho into my eclectic closet. I think I like arms as a part of my fashion statement. (That, and my boyfriend has respectfully asked me to leave this one alone as his mother was once an avid poncho fan.) But alas, you all must be supported in your varied fashion interests! And as your intrepid global fashion liaison, I went searching for the meaning of ponchos.
Poncho is derived from the Araucan word pontho, meaning "woolen fabric." (The Araucan Indians hail from south-central Chile.) The mythological coffee icon Juan Valdez sports a thick, V-necked version. My buddy in the Netherlands tells me that the only ponchos on the street there are the plastic variety donned only when "the sky cries." A search for ponchos in the U.K. will turn up a thin shawl-like garment of ornately beaded silk (check out Flamedragon.com), so note that when in Rome, ponchos might not be ponchos.
And visiting www.angelfire.com/ga/poncholand will land you in the most foreign land of all, the site of Sara Ann Crawford's personal homage to ponchos. Ms. Crawford is "blessed to be the voice for ponchos of the world, as they are so very misunderstood." You glean this message from her five unusual reasons ponchos are so good (e.g. ponchos are excellent listeners!).
As the temperatures drop around our city, you'll be able to find plenty of warm and woolly examples locally. Behind the Post Office on upper Haight carries hand-knit, beaded, lightly fringed shorter styles and longer styles with turtle or V-necks, with prices ranging from $70 to $198. She on Hayes Street features an array of shorter styles in brightly colored wool. Prices range from $130 to $350 .
---
Behind the Post Office, 1510 Haight St., 415.861.2507

She, 528 Hayes St., 415.552.4030
---
[ San Francisco | MetroActive Central | Archives ]