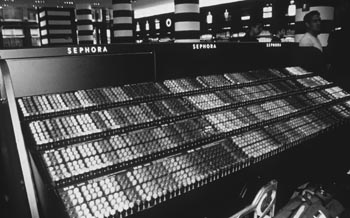 Take Your Pick: One-of-a-kind makeup displays at Sephora include a rainbow of 365 shades of the store's private-label lipstick.

A one-stop beauty mecca

By Diana Rupp

When customers walk into Sephora, France's leading cosmetics retailer, they'd better prepare to be seduced by a world of high-tech luxury. A long red VIP carpet leads shoppers into an elegantly minimalist black-and-white interior which could double as a modern art gallery. Exhibits are in the form of one-of-a-kind displays, including a giant "Fragrance Organ" with more than 500 bottled notes (all of which the store carries), a rainbow of the 365 shades of their private label lipstick, motion-activated video commercials and a bank of interactive computer terminals for self-service product "research."

But even more impressive than the upscale accouterments is the merchandise itself. Sephora stocks just about every makeup, fragrance and skin-care product known to man. In addition to at least a dozen of the big names found in most department stores (Estee Lauder, Christian Dior, Shishedo), there are many lesser-known niche and European brands and even a few drugstore names, including Stila, Nars, Erno and Laszlo.

To keep customer confusion to a minimum, products are filed alphabetically in a "Treatment Library" both by brand name and by need (i.e., anti-aging, acne-prone skin, sun protection, etc.). Black Nehru suit-clad salespeople are available to answer questions, provide advice and dispense samples, but they'll do so only upon request (employees do not work on commission, so there are no high-pressure tactics).

Like other "destination" retailers located in Union Square, Sephora is sure to be a big hit with the bridge-and-tunnel crowd as well as with tourists. However, unlike Nike Town or Borders, Sephora's sophisticated design and unique business philosophy will win over even the most anti-corporate San Franciscan. The irony being, of course, that the store is precisely what it appears not to be: a chain. San Francisco is only one of 14 locations opened in the U.S. this year, with expansion into South America and Asia slated for 1999.
---
Sephora is located at 1 Stockton St.
---
[ San Francisco | MetroActive Central | Archives ]