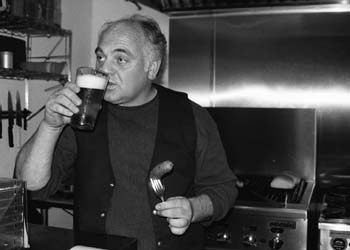 Picking A Wiener
From chicken & cherry to spicy lamb and beef, Jeff Howald, proprietor of Rosamunde Sausage Grill in the lower Haight, serves every kind of bangin' banger imaginable
By Mark Ewert
What do you consider your job to be?
Sausage sales. We offer a wide variety of sausages, mostly of European character, either grilled as sandwiches or to purchase and take home and cook.
How did you get started?
Being unhappy with your previous job is always good impetus to go start a business of your own. In my case I was working in a restaurant for three years as a barkeep, introducing German and Belgian beers to the menu. I loved the job along with working with my good friend who had opened the restaurant. Well, the place became very popular and my friend eventually sold his share and moved back to Europe. The restaurant became a hash house under a new owner, so I left. I wanted to start a small business, a one-person operation without an army of employees. So the sausage grill made sense.
How long have you been doing this?
18 months.
Who or what was your inspiration to enter this career?
The place where I grew up on Lake Erie. There are many European communities in the Great Lakes region. As a kid my parents and I would get in the car and drive to the Polish or Hungarian section of town and shop in these small community stores. You could smell the shops from a block away: the smell of fresh smoked meats or baked breads just made. Top Dog, in Berkeley [another one-person operation], was also an inspiration.
Do you have any pet peeves about this career?
People still think sausages are made from scraps left on the slaughterhouse floor; you know: feet, nose, tails, tongue ... It's just not true. Only the cheap-ass hot dogs you find in supermarkets are made of these products. That shit's gross.
If you weren't doing this, what would you do?
I'm a private person. So, probably, I'd be hidden away in some Buddhist monastery. Only this monastery would be well-stocked with beer.
Are there any perks to the job?
Next door to the Grill is the best bar in the country [the Toronado].
[ San Francisco | MetroActive Central | Archives ]