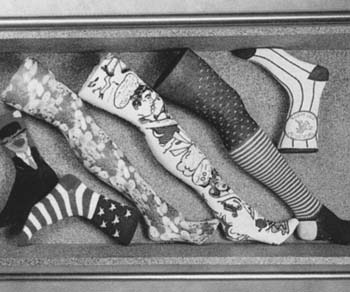 Sock It to Me!
Fantastic Footwear For the Winter Chill
By Dara Colwell
I'll give three reasons why Sox Sox Sox is the perfect place for a holiday pit stop: one, December is prime sock-stuffing season (we won't ask what or exactly where you want to stuff it); two, it's the perfect time to buy pressies for your forlorn Laundromat-hopping siblings whose favorite socks seem to walk off one by one; and three, even if Santa fails to come down your chimney, it's not getting any warmer so you might as well stock up.
Sox Sox Sox, located in San Francisco's touristy Cannery center and formerly of the Haight, has been warming the feet of tourists and locals alike for the last seven years. Run by husband and wife duo Ed and Hiroko Rosen, the store is stocked to the brim with the kinds of socks your grandmother might buy you, as well as some surreal, funky numbers you never thought would see the light of day. Especially popular at the moment, says Hiroko Rosen, are the animal prints.
"There's something about kitties--they always sell," she says, rather nonplussed. Rosen has an exasperated look of "but they're just socks" on her face as she tries to equal my enthusiasm for a pair of Celeste Stein techno-colored kitten tights ($18 a pop).
Well, I'm all agog because this store is aligned with my little-girl foot fetish fantasies. There are hundreds of socks here: brown Biellas ($26) that resemble an old shag carpet; Hot Sox ($6.50) in floral patterns, paisleys, argyle and golfing stripes; a pair of psychedelic Sox Trots ($8.50) straight out of Yellow Submarine; loud K. Bell socks with red flames blazing across 'em; and a variety of socks with American and British flags, chile peppers, Chihuahuas, Baroque cloudy skies, pianos and snowmen splashed across them, all ranging from $5 to $26.
Of course, there are the more sedate Pierre Cardin and Dockers for men, in gray and black at a sensible $18 a pair. "Ooh, you have to have the right outfit for these," says a customer, buying basic black socks. With butterflies and Hindu goddesses to choose from, I'm not quite sure where she's coming from. Instead, I look to Hiroko's socks for inspiration. She's wearing a Miro-esque pair of black Hot Sox.
"I think I tend to wear the more subdued," she says, although admittedly she has put her feet into a few loud ones.
If, like me, there's nothing to stop you from buying socks with separate toes, or you need to replace all those sorry leftovers piling up in the corner of your closet, this is the perfect place to shop. And Santa be damned, it's a fun way to spend those excruciating Xmas shopping hours. Once you've finished, you can hop over to Ghirardelli and treat yourself to some chocolate. Now there's a good girl.
---
Sox Sox Sox, 2801 Leavenworth St., 415.563.7327
---
[ San Francisco | MetroActive Central | Archives ]