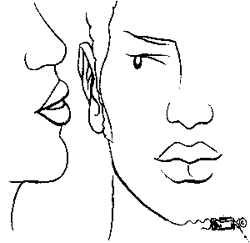 Derek Jackson

Work What You Got

By C. Silo

The turntables might wobble, but they don't fall down. ... It was hot as hell in the Justice League as hundreds of b-boys with baggy pants and firmly crossed arms stood facing the DJ, hungrily observing his every move. Not a cut or a scratch escaped their intensely focused gaze, and they refused to be distracted by even the dopest booty or the perkiest tits. "I'm bored," whined Chestikka DD, creator of Boomin', the hoochie-mama lingerie line. Nope, goddess power stakes no claim at the Future Primitives Sound Session parties, but that never concerns me, because it's always a joy to see heterosexual testosterone channeled into something other than any random, available fragrant flower. You all know how the story goes. ...

Always the sexiest man in a wife-beater tank top, "dope entertainer" J-Boogie stood onstage working three turntables while promoter Mark Herlihy, also in a tank top (not the spousal-abuse variety), stood behind the DJ and looked off into the crowd with apprehensive pleasure. He has succeeded in creating the most educational DJ venue that San Francisco has ever seen. Clearly, almost everyone in the audience was aspiring to Jam Master Jay-level skills. A native San Franciscan and former rave promoter, Herlihy has put in years of hard work, and they are paying off in a surprisingly big way: the Future Primitive Sound Session party has evolved into a full-fledged record label, and as we speak Herlihy is roaming the streets and nightclubs of Paris, where his genius is presently in demand.

Nonetheless, Chestikka DD and I have one thing in common: an attention span the size of a petite flea. So we kissed Herlihy and his tightest cohort, Mark Wasserman of Plinko Design (who still resents me for calling him "The Wass" when we were students at Lowell High School), goodbye and headed for the door, where Hector Suaze MD, photographer for Slap magazine, stood arguing with the "take no shit" door girls. "Yo, I swear I'm on the list--I'm hella tight with the owner!" he cried. Since it was obvious his implorations would be refused, Chestikka and I invited him on our next trip--a hob-nobbing excursion to Jeanette Etheridge's Tosca, where the gorgeous Elise Cannon of Publisher's Group West was hosting a private party for Legends of the Fall author Jim Harrison. A dedicated Brad Pitt fan, the mildly illiterate Suaze agreed to be our chauffeur.

Having once treated me to a hyperkosher pork meal at the lovely Empress of China, Tosca manager Peter could not refuse my entrance. "You still owe me," he whispered. "Hmmm, I think I'm busy for the next seven to eight years," I replied as I made my way back to the food, where Henry and June director Philip Kaufman was digging into a plate of perfectly cubed cheese. "You have to get an interview with Jim Harrison--just go up and fucking ask him," suggested author Varla Ventura (a.k.a. Brenda Knight), whose newest book, Sheroes, has made her the focus of a soon-to-be-released Lifetime documentary. Tired of feeling like a talentless media whore, I declined Ms. Knight's polite suggestion; she, in turn, replied, "You need this fucking interview. I swear you do. I have the psychic feeling he'll give you his number."

Mr. Harrison's old-school reputation as a heavy-drinking, hand-on-your-ass kind of author slightly intrigued me. And since I'm quite secure with both my ass and my drinking, I proceeded to interrupt his obviously boring conversation with some twit in a beard and a tweed coat. "Hey, can I interview you?" I asked. His hand landed on my shoulder (isn't this at least 16 inches in the wrong direction?), and he instantly launched into a slurred homage to my apparently attractive visage. Two minutes later, I strutted back to my booth, home number in hand. "What a slut!" Hector shouted. "Work what you got, bitch!" approved Ms. Knight. Unplanned mission accomplished, Hector and I left for a gentle literary nightcap of Olde English atop Coit Tower--a wonderful protrusion whose name couldn't have been more appropriately coined.
---
Send positive affirmations and cruel comments to: [email protected].
---
[ San Francisco | MetroActive Central | Archives ]