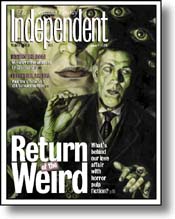 For the Week of
January 9-15
Cover: Roots of the Weird
From the 1920s and '30s tales of H.P. Lovecraft and Robert E. Howard, a generation rediscovers the joys of aliens and barbarians.
News: Jailhouse Rock
Offenders cool their heels in jail, thanks to recent cuts in the county probation budget.
The Scoop: Why AIDS doctors may face jail.



Wal-Mart Blues: The nation's biggest retailer is under fire, not for gun sales (sorry, Sheryl Crowe), but for censorship of rock and rap CDs.
It's a Jazz Thang: The T.J. Kirk Quartet's soul-jazz tributes are funky fun.



Lovin' Spoonful: Rain forest entrepreneur Doug Stewart ices out the competition with his sorbets.