[ MetroActive Central | Archives ]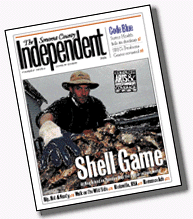 January 11-17, 1996
Frontlines
Gold in Them Thar Ills: Sutter Health gets big, but is it skimping on patient care to boost its corporate cash flow?

News Briefs: Prostitution sting; bombs found in Petaluma; living history conflagration.
Arts &amp Entertainment
Music
Hicksville: That sweet hillbilly sound is not forsaken by the indie labels.

Books
Shakespeare's Sisters: The Sitting Room has something for everybody, from Danielle Steel to political material from the early women's movement.

Menu
Pearl in the Shell: Tomales Bay hosts a handful of high quality oyster farms.

Movies
Movies: Our new and archived movie reviews
---
This page was designed and created by the Boulevards team.
Copyright &copy 1995 Metro Publishing and Virtual Valley, Inc.