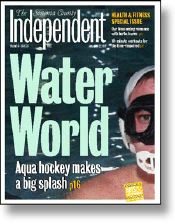 For the Week of
January 16-22
Health and Fitness
Special Issue
Water World: Aqua hockey makes a big splash.
The Quick Fit: 10-minute workouts for the harried health-seeker.
Herb Time: America is embracing herbal remedies, but is this trend a boom or just an expensive trip to the nature store?
News
The Scoop: Behind that Ebonics flap.



Talking Pictures: Classical pianist and conductor Jeffrey Kahane talks about the marvels of "Shine."



Thai One On: Casual and intimate, Healdsburg's Lotus Thai restaurant marries East and West.



Release Him: Crooner Engelbert Humperdinck revamps his cool quotient.



Being There: 'From a Voyeur's Diary' exhibit titillates the mind.