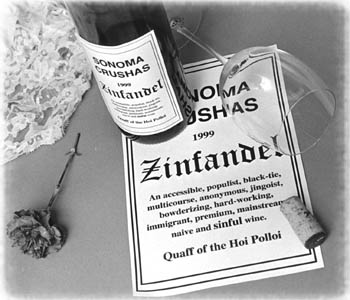 Photograph by Rory McNamara

The Sin of Zin

Can America's populist wine survive success?

By James Knight

For some, the Super Bowl is on a Saturday. Sure, it's the Super Bowl of all wine tastings, but that's not just cork-sniffing hype. It's the annual ZAP Zinfandel Tasting, which in 10 years has grown from a few dozen aficionados to capacity crowds at San Francisco's Fort Mason Center.

Made up of wineries and individual members, Zinfandel Advocates and Producers aims to promote Zinfandel as America's original world-class wine. At some point I signed up for their mailing list, heeding their rousing call to serve and protect "America's Heritage Grape." But I was eager to reap some benefits besides a T-shirt and mailings for endless boutique releases that I can't afford.

My chance came to volunteer a few hours at last year's tasting, thereby earning my ticket for the remainder of the legendary event, which offers more than 500 Zinfandels from over 250 wineries. The only real limits Zin fanatics face here are time and stamina.

When I arrived, volunteers were bumping into each other, so I was cut loose for a while. The morning is trade only, but I meandered freely with my all-access pass, taking care not to tipple too much before my duties.

The successful event has grown to the point that it's taken over both the Herbst and Festival pavilions, each showcasing different appellations. The tasting is the last--and most accessible--in a week of high-ticket events (which this year runs from Jan. 23-26). But Zin's populism shows through even in the $135 black-tie, multicourse dinner and auction event--which is blue jeans optional.

The spin on Zinfandel as all-American grape is more than just going jingoist in the glass. While all vinifera grapes were imported from Europe, Zinfandel has no counterpart in Old World wines. California Cabernet is compared to Bordeaux. But Zinfandel arrived on these shores like many Americans, an anonymous immigrant from somewhere in Eastern Europe whose original name was bowdlerized as if by some Ellis Island immigration agent.

Zinfandel was first employed as a table grape in 1830s New England, then headed west to California, where it was a hard-working producer of jug wine in the 19th and 20th centuries. In the last several decades, Zin attained cult status and then mainstream success as a premium varietal.

When at last I reported for duty, I was sent outside to guard the entrance to a special tasting for members of the press. For hours I stared at Alcatraz Island, with no company except for seagulls and the occasional chatty smoker. But as the press tasting wrapped up, leaving hundreds of half-empty bottles, I was assigned the final task of simply locating each winery they belonged to and redistributing them.

During my seaside sojourn, the ambiance of the pavilions had altered considerably. At 1:30, the general public spilled past the ropes like a rock concert crowd. The aisles were packed elbow to elbow, khakis to khakis, and the drafty old military piers echoed with the buzz of over 9,000 Zin fans.

When I had pushed between purple-toothed festivalgoers who pointed and hooted at my whole case of wine, and dodged the dump-bucket crew wheeling bathtub-sized quantities of swirl and spit byproduct, the wineries were surprised to find they even had a half a bottle coming back to them. But I earned my ticket.

I staggered toward my reward, complimentary glass in hand. Five hundred Zins in two hours. My naive tasting goal, to locate the perfect Zin, crumbled under the sheer volume of hooch.

Besides the usual suspects, the variety of wineries ran from Acorn to Zoom, with outfits like Hellacious Acres and JugHead in between. I revised my aim of trying hard to like Sierra foothills Zins, and then I just weaved towards the Sonoma offerings.

After a usual afternoon of wine tasting, one's palate tends to distinguish less between each succeeding wine. After an afternoon at ZAP, one's palate growls and barks in confusion.

I sampled the annual ZAP bottling that is a melting pot of wine donated by member wineries. Another is made from the fledgling vines of the Heritage Vineyard, where clones from century-old vines are being grown in an effort to develop a sort of science of Zin.

At last, in the back of the Festival Pavilion, Sonoma County's own Coturri provided the idiosyncratic flavors to wake up my taste buds, with their organic wine fermented with natural yeasts.

But before I could get a second wind, we were swept out the doors like bar patrons at closing time. I bumped into one of the overflowing tables of bread and cheese and had to nosh my way out.

The crowd outside, still in thrall to the grape, created a scene somewhere between a wedding reception and a soccer riot. I joined others streaming away across the grassy park, feeling a light-headed tinge of pride that Zinfandel, despite its newfound chic, appeared to still be the quaff of choice of the hoi polloi.
---
The 11th Annual Zinfandel Tasting takes place on Saturday, Jan. 26, at Fort Mason Center in San Francisco. The event runs from 1:30 to 5 p.m. in the Herbst and Festival pavilions. Admission is $45 in advance or $50 at the door. For details, call 415.345.7575. Or try the ZAP website at www.zinfandel.org.
---
[ North Bay | Metroactive Central | Archives ]