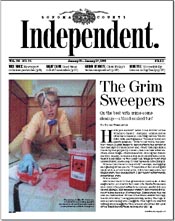 For the Week of
January 21-27, 1999
Cover: The Grim Sweepers
On the beat with local crime-scene cleanup firms.
News: Toxic Shock
New report warns of increasing health risks from local pesticides.
The Scoop: Pork-barrel swill permeates the federal educational budget.
Up to the Task?: See how your kids' school did in the state Standardized Testing and Reporting program.
Climbing Up on Capitol Hill: Check up on the your Congressional Representatives and U.S. Senators--where they stand, how they voted.



Rebel Yell: Rockabilly mavens Big Sandy & his Fly-Rite Boys return.
Spins: A burst of punkish blues from Jon Spencer Blues Explosion and more.
Movin' on 'Up Up' With Ani DiFranco: Rough, cocky and vulnerable, Ani DiFranco rewards her fans' obsessions on her new album, Up Up Up Up Up Up.
Europop With a Thousand Faces: Espen Lind, the Merrymakers and Cassius head a new European musical invasion.



Talking Pictures: Keith O'Brien--an esteemed hydrogeologist and sought-after expert witness--cross-examines the popular environmental courtroom drama A Civil Action.
L.A. Story: Hurlyburly a smorgasbord of over-the-top decadence.



Some Like it Hot: Passionfish serves up a Cajun feast.
Heard It Through the Grapevine: Get to the root of all things wine.



Acts of Love: Romance and Tenor focus on the heart.



Art Bytes: Penngrove artist Chris Finley collaborates with his computer.



Winner of Discontent: In praise of Charles Schulz's 'Peanuts'--a retrospective.



Please don't forget to write! The Sonoma County Independent welcomes letters commenting on our coverage or other topics of local interest. Please keep all letters at 300 words or less (we reserve the right to edit them for length and style) and sign them (unsigned letters will not be published). A local phone number must be included for verification. Postal: Sonoma County Independent Letters, 540 Mendocino Ave., Santa Rosa, CA 95401. Fax: 707/527-1288. Email: [email protected]. Emailers, please include name, city of residence and phone number. Letters printed will list email address unless otherwise specified. Letters to the editor are not currently published in the online version of this paper.