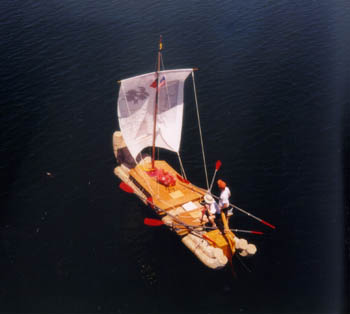 Photograph by Elena Siebert

Corker!: Over 165,000 corks bundled together with rubber bands form the 'logs' with which John Pollack and Garth Goldstein built their boat.

If I Had a Boat

'Cork Boat' author John Pollack goes out on a river

By Gretchen Giles

There came that fateful day when John Pollack, age 33, awakened and realized that he was an adult. A speechwriter for Democratic congressman David Bonior of Michigan, Pollack had an office inside the Capitol building in Washington, D.C., a great income, an understanding girlfriend, a profession that helped to shape--albeit in a minor way--the workings of the Clinton administration and a substantial retirement plan for that time, rapidly approaching, when he would be an aged adult.

Shudder.

Repulsed by the hypocritical machinery of the workaday Washington world, in which Congressmen give speeches to empty rooms for the benefit of CNN's cameras and conduct interviews in a special television "library" fronted by fake books, Pollack decided to quit. Not go on to a different job, perhaps ladling out soup to people who spoke in occupied rooms and read real books, but just quit. That is, quit and build a boat.

That is, quit and build a boat entirely fashioned from wine corks.

Four years and a 17-day trip down Portugal's Douro River later, Pollack will speak about and read from the result of his decision, simply titled Cork Boat (Pantheon Books; $21), at Copperfield's Books on Thursday, Jan. 29.

Taking a childhood dream (and pursuing the single-minded mission of crafting a boat entirely from his parent's used wine corks was definitely among Pollack's infant fantasies) and turning it into reality is not something most of us achieve. Frankly, it's not something most of us want to achieve.

But for Pollack, building this boat became something much more than merely satisfying the six-year-old still huddling within. It became a real and palpable way to grow entirely up. Through securing corks with the rubber bands he used to create "logs" of the stuff, John Pollack became--no shudder at all--an adult.

Caught while taking the afternoon commuter train between Washington, D.C., and his home in Manhattan, Pollack says, "Building the boat was childlike, not childish, as childish would imply immaturity. But I think that there's a child in everyone at some level and that being mature shouldn't mean we lose the best of childhood. Being mature means treating people fairly and with respect; it means setting goals and working hard to accomplish them.

"Those are things we learn as we grow up, but along the way, I think that people are encouraged to set aside playfulness. I think that people are taught to cut their losses a little bit to prevent others from thinking that they're goofy or not adult enough. That sense of play adds richness to our lives and makes us better at our serious jobs."

For almost a full year, Pollack's serious job was cajoling bartenders, servers, restaurant managers and anyone else who put a wine knife into a bottle to save the resulting cork for him. He clung romantically to the idea that each cork that helped float his boat would have a history to it, a time when it was pulled victoriously from a tight glass neck to mark an occasion, enliven a friendship or supplement a quiet meal between two people enjoying the rough strife of relationship. In this catch-as-catch-can manner, he and his high school friend Garth Goldstein, a young architect quickly recruited to help, amassed 32,000 used corks.

But corks, as Pollack and the reader quickly learn, are much more complicated than they may seem. Used ones, for example, tend to rot if stored in airtight containers, so the men had to keep their thousands of stoppers in paper bags. Lots of paper bags. For another, some corks are conglomerates of good and bad product; the bad absorbs liquid. The riverway that Pollack meant to put the craft into tends toward liquid, making absorption bad physics. And finally, there are those drat plastic stoppers making small inroads into the ancient tradition of cork oak bark-stripping, a highly skilled practice requiring a 40-year-old tree that may only be harvested once a decade.

Peter Weber, director of the Sebastopol-based Natural Cork Quality Council, helped Pollack find a donor in the Cork Supply company, based in Benicia. "Our association includes most of the major cork companies in this country," Weber says, "and we all thought that it was a fun idea. We all offered encouragement." Cork Supply itself offered even more, donating the remaining corks necessary to supply the 165,321 total used in order to build a boat big enough to support two grown men, their oars, rudder and mast.

Meanwhile, Pollack was called back to Washington, this time to join President Clinton's own speechwriting team. "It was a challenging job in that the standards were so high and you wanted to do your absolute best," Pollack enthuses. "And it was challenging in that we covered such a wide range of issues--that's what made it interesting, too. It was a great chance to serve as well."

With the change in administrations, Pollack found himself involuntarily out of a job and again devoted himself full-time to building his boat, enlisting over 100 volunteers in the effort and having Cork Supply arrange to have the craft taken to Portugal for its maiden (and only) voyage. The boat was eventually finished, shipped to Europe and sailed for 17 days through a series of complicated locks on the Douro. It remains in Portugal today.

"I still save corks," Pollack chuckles. "I'm just pickier about them. I evaluate them to see if they're boatworthy or not boatworthy. It's a hard habit to break. I don't expect to build another boat, but they're great little objects."

Saying that he'd go back to Washington in a minute given the chance to work for another Democratic president, Pollack admits to a sense of post-boat-building letdown, having one small dream so largely finished. "It's very satisfying to complete it," he says, "and the next day is then a question: What do I do next? I feel great about having completed the boat and I feel great that in writing this book I've been able to articulate the story in a way that it will reach more people.

"I don't know what the next big creative project is, but I also remember that the cork boat didn't start out as a big idea, it started out as a small one. Maybe I don't recognize what the next big idea is, because maybe it's too small. That's a realization that I came to when I finished writing the book. But I'm OK with that; I don't know what's coming up, just as I didn't know what was around the corner when I was on the river."

Something else that Pollack didn't anticipate was how the project would change his relationship with his friend Garth Goldstein. As the story deepens, Cork Boat's narrative frequently contains such phrases as, "I was furious with Garth." Pollack is methodical; Goldstein mercurial. One works best with a five-year plan; the other, with tomorrow's 8am deadline. Toward the end of the book, Pollack writes, "Our admiration for each other was surely greater than ever, but it was also tempered by deep, private frustrations and no small amount of anger on both our parts."

While a child might think that the terrible strength of angry words will wreck a friendship forever, an adult understands that people sometimes just disagree, a revelation that made more sense to Pollack by the time his journey had ended and his maturity ripened. "That's exactly what Cork Boat is about," he says simply.
---
John Pollack reads from and discusses 'Cork Boat' on Thursday, Jan. 29, at 7pm. Copperfield's Books, 138 N. Main St., Sebastopol. Free. 707.823.2618.
---
[ North Bay | Metroactive Central | Archives ]