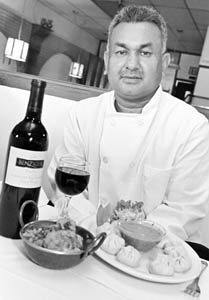 Flavor excursion: Annapurna owner Dikendra Massey offers colorful cuisine.

Photograph by Rory MacNamara





High Times

Scale the tasty Himalayan heights at Annapurna

By Paula Harris

THE COMFORTING chai tea at Annapurna Nepalese Restaurant is perfumed with cardamom, cloves, and fresh ginger. Just the promise of a fragrant cup of this creamy spice-infused delight is enough to lure me off the cold street and into the cozy dining room.

But then add to this the possibility of some tantalizing piquant curries and a selection of marinated meats and chewy breads brought steaming from the clay oven, and you have the recipe for a satisfying and exotic meal.

Sonoma County seems fated to house at least one Nepalese restaurant. The trend started a few years back with the now defunct Himalayan Sherpa Cuisine restaurant in Glen Ellen. This enterprise was followed by the Katmandu Kitchen and then the Himalayan Chhahari restaurants in Santa Rosa. The last two (both also now defunct) were housed in the same location on Ross Street (unfortunately out of the view of any major traffic-- automobile or foot).

Latest in this Himalayan parade (also now in the Ross Street location) is Annapurna, once again featuring the colorful diverse Nepali cuisine, which uses cumin, cardamom, green and red chilies, garlic, ginger, fenugreek, Szechwan peppers, scallions, and more to create mouth-awakening dishes.

Not too much has changed decor-wise inside this venue, but the plain white walls are now warmed by maroon-red trimmings, vibrant color photographs of Tibetan scenes, wood carved masks, and a few Nepalese drums and other hanging musical instruments.

Seating is either at tables or, more traditionally, on floor cushions. Intricate black-tasseled paper lanterns decorated with mysterious inky symbols hang over the tables. And percussion-heavy Tibetan folk songs emanate from the sound system.

The dinner is mid-priced, and there's an all-you-can-eat buffet lunch offered for the bargain price of $5.95.

Some of the dishes borrow a bit from Indian cuisine. For example, the delicious samosas ($3.50), which are crisp golden puffed pastries, are served hot. At Annapurna they are nongreasy and are crammed with potato, peas, and herb and almond filling. These are great dipped into the sweet and sour tamarind sauce served on the side.

Another good appetizer is a plate of steamed flour-dough dumplings called momos. They are stuffed with either ground lamb and served with a mint sauce ($5.95) or with a selection of minced veggies ($4.95).

Generally, the Nepalese dal soup I have encountered elsewhere (and made at home) has been thick and texturally almost chewy, but here the dal ($4.95) is a much thinner, more refined consistency. It's light and creamy with a rich tomato taste.

There's more light creaminess in the Annapurna kukhura special ($10.95), a curry made with boneless chicken chunks cooked in a milky sauce with spices and almonds. Other curries include the very tasty kukhura ko ledo ($9.95), billed on the menu as "a favorite in Nepalese households," which is the boneless chicken pieces cooked in a fresh garlic, ginger, and onion sauce. Yummy.

However, the chef's special khasi ko achere ledo ($12.95), pungent lamb chunks cooked in a spicy pickle sauce, was too chewy and the sauce too oily the night we sampled this dish.

A better cut of meat would help.

Other dishes include tiger prawns cooked in garlic, ginger, tomato, and spices ($12.95) and a selection of tandoori-oven specialties, such as marinated lamb or chicken.

In addition, Annapurna offers lots of vegetarian dishes, including fresh-fried potato with whole cumin seeds, "a high-altitude special" ($8.95); and the very flavorful mismas tarkari ($8.95), a mix of peas, mushrooms, zucchini, broccoli, and carrots cooked in a slightly spiced sauce.

The entrées are served in small individual copper bowls and come with either nan bread or basmati rice. My advice is get the rice and order a separate nan. The thin hot fluffy pillows are brushed with garlic and fresh cilantro or basil ($2.25).

Wines are quite limited, so you might prefer to stick to imported Indian beers, like Kingfisher or Taj Majal. Or maybe sip a cool mango lassi ($2.95).

For dessert, try the kheer ($2.95), a mildly sweet rice pudding with dried fruits served hot, or the Everest Kulfi ($3.95) refreshing saffron-flavored ice cream with pistachios.

The staff--whether it be owner Dikendra Massey, his affable American wife (they met in Nepal several years ago when she was in the Peace Corps), their charming young daughters (dressed in traditional garb), or any of the other gentle souls who will serve you--will make dining at Annapurna especially pleasurable.

Namaste!
---
Annapurna Nepalese Restaurant
Address: 535 Ross St., Santa Rosa; 707/579-8471
Hours: Lunch daily, 11:30 a.m. to 2:30 p.m.; dinner daily, 5 to 10 p.m.
Food: Classic dishes from Nepal
Service: Proficient and friendly
Ambiance: Casual, with table or floor seating
Price: Inexpensive to moderate, with bargain lunch buffet
Wine list: Minimal selection
Overall: 3 stars (out of 4)
---
[ North Bay | MetroActive Central | Archives ]