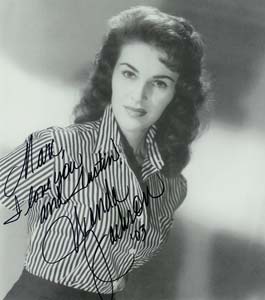 Rockabilly Royalty: Just a teen when her career started, Wanda Jackson has made music for half a century.

Hard-Headed Woman

The gospel according to Wanda Jackson

By Greg Cahill

"My dad always told me, 'If youčre going to do something, be different at it,'" says Wanda Jackson, 'stand out in some way, do a little bit more.'" Jackson took her dad's advice. In the mid-1950s, at the dawn of the rock 'n' roll era, she became one of the fledgling genre's first female stars, an energetic 18-year-old rockabilly queen who dated Elvis, made frequent stabs at the Top 40 and tore through the music industry like a Midwestern tornado.

These days, Jackson--who performs Jan. 28 in Fairfax--is a legend. In 2003, an all-star lineup that included Elvis Costello, Dave Alvin and Rosie Flores joined her on the critically acclaimed comeback album Heart Trouble (CMH). More recently, a motley crew of insurgent country and renegade cowpunk artists (Neko Case and Wayne Hancock, among others) contributed cover songs to Hard-Headed Woman: A Celebration of Wanda Jackson (Bloodshot).

"Wanda helped stake out a direct route from the feral origins of rock to the punks, riot grrrls and psychobilly boundary-busters 50 years later," the Bloodshot website extols. "She kicked down the door to the good ol' boys club that told us women couldn't (or shouldn't) bring the ferocity and attitude necessary for a truly liberating brand of music."

Says Jackson, who also was country music's first teen star, "I remember thinking, 'Man, this is great. This is a field that nobody has even tapped, and I'm in on the ground floor.'" What does Jackson think of an underground rock band like Trailer Bride paying tribute to her by giving her 1959 hit "Fujiyama Mama" a neo-psychedelic twist? "Oh, I think it's just darling," says the 67-year-old grandmother during a phone interview from her home in Oklahoma City.

Jackson was just 16 when country star Hank Thompson took her under his wing after hearing her on an Oklahoma radio station. Her single "You Can't Have My Love," a duet with bandleader Billy Gray, became a national hit while Jackson was still in high school. In 1955 Jackson hit the road as the opening act for Elvis Presley, just months before Elvis' career exploded. The two hit it off, dating for nearly a year. Elvis gave Jackson his ring. He also encouraged her to stretch out beyond country by singing rockabilly.

"We were both just kids doing what we knew we were born to do and having a great time," Jackson recalls. "He thought that I should be doing the type of music he was doing--we didn't really have a name for it then. My argument was that the audience was all girls and wouldn't take to me. Ultimately, he was right." Capitol Records, then the world's largest record company, saw the potential in a female rock singer with the ability to cross over to country fans, and signed Jackson to a contract that would last 18 years, until Jackson herself asked to be dropped from the label.

By that time, 1971, she had found Jesus and wanted to record more gospel music than Capitol was comfortable with. She moved on. Her career went into low gear. But a 1985 tour of Scandinavia reignited Jackson's career. Ten years later, Tex-Mex rocker Rosie Flores gave her a real kick-start in the States. "I have more celebrity now than I ever did," says Jackson. "Strangely enough, it all just kind of happened without me pursuing it. It just came to me."

This year, for the first time, she made the final ballot for induction into the Rock and Roll Hall of Fame, a sure sign that Jackson may get the widespread recognition she deserves.

In many ways, Jackson already has it all, serving the Lord and living out her rock 'n' roll fantasy. "It's real interesting because I can sing whatever I want, not just country or just rockabilly," she says. "Now Wanda Jackson is a mixture of all these songs, with a little bit of gospel thrown in. I always tell my fans that I received Christ in '71, and most of the time you can hear a pin drop because they reverence that. In my heart, I think perhaps they're thinking, 'Maybe she's got something there.' That's how God is choosing to use my testimony these days--not in a preachy form but in a way that tells young people, 'Hey, I had it all, but I didn't have Christ,' and that's all that's gonna count in the end.

"It's very rewarding. Most of my fans are young adults, and at my age, that makes you feel real good," she chuckles.
---
Wanda Jackson performs on Friday, Jan. 28, at the 19 Broadway Nightclub in Fairfax. The Cadillac Angels open. 9:30pm. $20. 415.459.1091.
---
[ North Bay | Metroactive Central | Archives ]