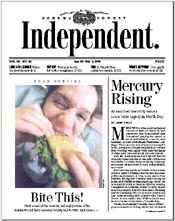 For the Week of
January 28-February 3, 1999
Cover: Down the Hatch
Grab a seat at the counter and enjoy some of the hardiest road food Sonoma County has to offer.
News: Heavy-Metal Thunder
Abandoned mercury mines tainting local waterways.
Forgetting Is So Long: Remembering Chile's tortured past.
The Scoop: Disney rescues us from The Rescuers.
Up to the Task?: See how your kids' school did in the state Standardized Testing and Reporting program.
Climbing Up on Capitol Hill: Check up on the your Congressional Representatives and U.S. Senators--where they stand, how they voted.



Pop and Circumstance: New Europop bands challenge American guitar rock.
Say, Amen!: MCA issues a divine five-CD Peacock gospel collection.
In Good Company: John Lee Hooker trades riffs with his 'boogie chillun.'



Blending In: Talking Pix guest says Stepmom delivers us from stereotypes.
Tinseltown Tender: In A Simple Plan and You've Got Mail, Hollywood figures that money is just too much of an obligation for simple folk to bear.
Ride the 'Hi-Lo Country': The Western myth gets a complex makeover in Stephen Frear's latest film. Plus, Richard von Busack interviews Frears about his latest film.



Too Much!: When eating bigger ain't eating better.
Heard It Through the Grapevine: Get to the root of all things wine.



Moore or Less: Author Lorrie Moore's latest thrills, depresses millions.



Please don't forget to write! The Sonoma County Independent welcomes letters commenting on our coverage or other topics of local interest. Please keep all letters at 300 words or less (we reserve the right to edit them for length and style) and sign them (unsigned letters will not be published). A local phone number must be included for verification. Postal: Sonoma County Independent Letters, 540 Mendocino Ave., Santa Rosa, CA 95401. Fax: 707/527-1288. Email: [email protected]. Emailers, please include name, city of residence and phone number. Letters printed will list email address unless otherwise specified. Letters to the editor are not currently published in the online version of this paper.