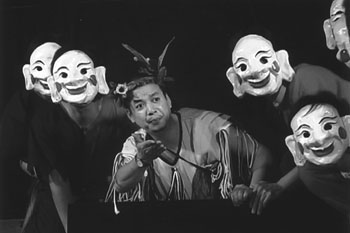 Perchance To Dream: Tuan Hai (center) plays Puck in the plagued production of 'A Midsummer's Night's Dream,' documented in 'A Dream in Hanoi.'

Sharing the Stage

'A Dream in Hanoi' follows two theater companies' onstage--and backstage--drama

By Sara Bir

"All the world's a stage," the old bard Shakespeare famously wrote, "and all the men and women merely players." The subjects of Tom Weidlinger's documentary A Dream in Hanoi probably mulled over this snippet in their heads as cameras filmed the rocky journey of two theater companies--one American, one Vietnamese--bringing A Midsummer Night's Dream to the Vietnamese stage for the first time. The result is a story not only of a play coming to life but of cultural ideals sparring, meeting, and melding.

In the fall of 2000, the U.S. Embassy in Hanoi and the U.S. State Department, along with the Vietnam America Theater Exchange, set up a collaboration between the Central Dramatic Company of Hanoi and the Artists Repertory Theater of Portland, Ore. The play, produced in Hanoi, combined Western and Vietnamese theatrical traditions and was performed in both Vietnamese and English.

Besides the obvious language barrier, challenges were not short in arising. Co-director Doan Hoang Giang, one of the most respected directors in Vietnam, had some ideas that didn't sit too well with his American co-director Allen Nause and dramatist and co-producer Lorelle Browning, including giving the fairy Puck a gang of six drumming, masked servant boys to trail him onstage.

Meanwhile, the American actor who played Lysander broke new theatrical ground by initiating kissing onstage--taboo in Vietnam, where public modesty prevails. Kirsten Martha Brown, who played Helena, found herself at odds with Giang and her Vietnamese co-star Do Ky; Brown envisioned her character as headstrong, loud, and graceless, while Do Ky maintained that in Vietnam "no man could fall in love with such a woman."

Meanwhile, the play suddenly loses its opening-night venue, the grand Hanoi Opera House, and the Americans panic, feeling that the Vietnamese (for whom the slow-motion hurdles of dealing with their government are a fact of life) aren't acting briskly enough. Then the cash-strapped company finds out that their opening-night ticket revenue won't come through, because the government censors must first attend the play--and they must attend for free.

The bulk of the drama in this drama is backstage. It's interesting that the tension between the collaborators is a result of everyone's own commitment to a vision of quality. It's that kind of tenacity that makes a great artist, but it's that kind of tenacity that makes the realization of vastly different concepts from vastly different cultures so demanding.

Weidlinger's viewpoint from behind the camera is objective, showing us tears of frustration and joy falling from both Vietnamese and American eyes. Equal screen time is given to triumphs as it is to the many tribulations. Weidlinger often cuts back to the dramatic action in the play itself throughout the film, making the proceedings a drama-within-a-drama that builds the film's momentum toward opening night.

F. Murray Abraham's narration is minimal and unobtrusive, and there's plenty of evocative National Geographic-style shots of Hanoi street scenes to set the tone.

Anyone who has found herself in an intense, closed environment with strangers can easily identify with the dynamics of misunderstandings, compromises, petty arguments that become huge, and the strength of unlikely friendships. This film speaks volumes to any audience that's been through a chaotic whirlwind of personalities and viewpoints and come out the better for it.
---
A Dream in Hanoi screens this week at the Sonoma Film Institute and Rialto Cinemas Lakeside. Maureen Gosling, the film's editor, will appear at the SFI screening. See Movie Times for showtimes.
---
[ North Bay | Metroactive Central | Archives ]