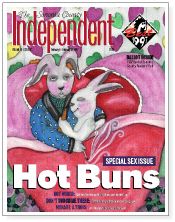 For the Week of
February 6-12
Special Sex Issue
Hot Wired: Getting to the bottom of sex on the Net.
Don't Touch Me There: Couples embrace celibacy in marriage.
Menage á Trois: A trilogy of classic erotica.
Foreplay: Little local sex bites.
Profits of Swoon: In which we discover that the holiday devoted to love has absolutely nothing to do with a saint named Valentine.
News: The Scoop
Smoking as your patriotic duty.



Talking Pictures: Award-winning author-teacher-mom Molly Giles views the brilliant Albert Brooks comedy 'Mother.'
Troubled Times: The horror of war is brought home in the raw maternal anguish of 'Some Mother's Son.'



Sly Sage: Mose Allison slips into the Mystic.



Liver Let Die: Foie gras enthusiasts say paté takes the cake.