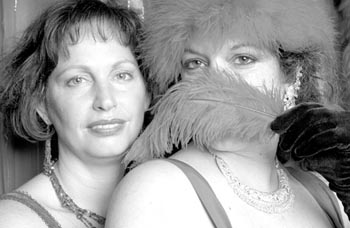 Photograph by Michael Amsler

Evangelists of eroticism: Dae Williams and Diana DeLuca.

Natural Urges

Founders of Botanica Erotica preach healing power of pleasure

By

DIANA DELUCA and Dae Williams are on a mission from God. Or Goddess. Or both, depending on one's point of view. Their calling--and to hear the Sebastopol women talk, it's clear that this is a calling--is to spread the simple but unexpected message that pleasure heals. "We're telling people," says Williams, "that pleasure is good, that when you are experiencing pleasure, it heals your body--and it also heals the planet."

"A lot of people need to be given permission to enjoy their bodies," says DeLuca, who adds a potent, practical piece of advice that she is glad to share with others.

"If your mouth waters," she says, "or if your nipples get hard, know that it's your body telling you, 'This is good!'

"Of course," she adds with a matter-of-fact smile, "this goes for men as well as women."

DeLuca (a local teacher, writer, and herbalist) and Williams (a licensed aesthetician and co-owner, with her sister Gina Williams and Andrea Spanzo, of Sebastopol's happily hedonistic Sensuality Shoppe boutique) are the brains and spirits behind Botanica Erotica, a one-of-a-kind line of all-natural, handcrafted, mostly edible, aphrodisiac balms and lotions intended to enhance the sensual experience of our own and others' bodies.

These "erotic botanicals" bear enticingly playful names like Bawdy Budder (edible spreads that come in a choice of flavors, including dark chocolate, white chocolate-almond-orange, and chocolate-tangerine) and Love Balm (exotically flavored lovemaking "lubricants" made from natural coconut oil and other organic ingredients). Along with such intriguingly titled offerings as Lust Dust, Love Licks, and Aphrodisiac Love Elixirs, the Botanica Erotica products--based on recipes that DeLuca has been sharing for years now in her phenomenally popular herbal sensuality workshops--have officially been on the market since 1998, granting grateful consumers' previously unanswered wish for healthful erotic delights.

"A lot of folks really care about what they put into their bodies, and they care about what they put on their bodies," explains Williams, sitting with DeLuca in the resplendent surroundings of the Sensuality Shoppe, one of several Bay Area stores that now carry Botanica Erotica products. "Women would tell us, 'You know, we grow our own vegetables. We buy all-organic foods. We only want good yummy things for all bodies--but there's nothing out there with all-natural erotic products.' And it was true. I wanted to create an alternative to that."

At that point, Williams was already successfully blending and marketing a line of all-natural face- and body-care products under the name Rejuvenescence, later changed to Sensuous Beauty. A fortuitous crossing of paths occurred, and she joined forces with DeLuca, who, it turns out, taught a workshop in the early '90s that was Williams' first inspiration to go into the organic beauty-product business.

Working in a large, festively decorated space out in the country ("Imagine the most awesome restaurant kitchen you've ever seen," suggests Williams), the dynamic duo manufacture and package all the products with their own hands--and those of a growing sisterhood of gleefully hedonistic helpers.

"Concocting is always fun," says DeLuca. "To say that we enjoy our work is an understatement."

As proof of the dynamic duo's spiritual intentions, every jar and bottle of Botanica Erotica comes inscribed with the phrase "Pleasure Heals."

Buy the Book: Botanica Erotica founder Diana DeLuca's book, Botanica Erotica: Arousing Body, Mind, and Spirit.

WHILE MANY of the products arise from experimentation and "happy accidents," and some are based on, as Williams puts it, "yummy things we started making for ourselves and our loved ones," a number of Botanica Erotica products evolve from suggestions offered by customers. Among the most popular of these is the Nether Petal Pomade, a "sacred" moisturizer otherwise known as Yoni Lip Balm.
"It can serve as a lubricant, but we already had lubricants," says Williams.
The Beautiful Breast Balm, one of Williams' own creations, is another invention that seems to be flying off shelves, tapping further into that need for sensual anointments. "It's not just some lotion to slap on your body before you throw on your clothes," Williams says. "There's intention there. You warm your hands and massage it into your breasts, and you have to be conscious about that. It's about loving your body."
"Then there's our Pleasuring Cream for Men," DeLuca offers.
"I can't tell you what a big deal that product is," Williams says with a grin. "It's like giving permission to men to masturbate. Men pick this up and look at it and go, 'Wow!' They see it's out in the open, it's being honored. 'I can have my own little jar of cream just for that purpose?' It's about giving permission to pleasure yourself.
"Let's face it, it's a pretty natural instinct."
And natural instincts are what DeLuca and Williams are all about. As the proprietors of Botanica Erotica, they've become reigning evangelists of eroticism, the high priestesses of pleasure, the patron saints of sensuality--and they love it.
"What better way could you have for being in the world," preaches DeLuca, "than to have a lot of pleasure and to create a lot of pleasure for other people, so it comes right back around to you and you get to have even more pleasure."
Adds Williams, "It's a really good business to be in."
And business is good.
AFTER BUILDING a significant local base of clientele through word of mouth and a handful of product placements in natural-food and beauty stores, Williams and DeLuca recently floated a few high-profile test cruises into the turbulent waters of national advertising, taking out a display ad in Herb Companion magazine. The response, according to Williams, was overwhelming.
"We heard from women all over the country, including places like Texas and Alabama," she says with a laugh. "Then, after sending out the orders, we began to get these amazing calls. Women from all over saying, 'The most beautiful thing is happening. I'm falling in love with myself just by putting this stuff on.' "
"They'll say, 'My husband and I sat down and went through the whole catalog, and we've decided on these two. What do you think?' " relates DeLuca, happily. "And you know they spent an hour together just letting themselves become all tantalized."
Says Williams, "Every time we send one of our little packages across the country, we say, 'Well, the scale's going to tip a little bit more in this direction. Here comes another person over to the pleasure side.' "
[ Sonoma County | MetroActive Central | Archives ]