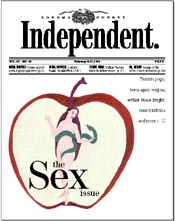 For the Week of
February 11-17, 1999
Cover: Bright Spot
Susie Bright on the state of the sexual union.
Abridged Virgins: In a lust for purity and piety, people are relinquishing premarital sex and sin to become card-carrying virgins again.
Sheik Unchic: Love glove leaves much to be desired.
High Tech Hookers: South Bay law enforcement gave itself a mission: to save the good citizens of Silicon Valley from the ravages of high-class San Francisco call girls. But why didn't they bust more of the men?
Confessions of a Call Girl's Friend: 'Toni' made no secret of her occupation when I interviewed as a roommate, but even though she never brought her tricks home, there are some parts of any job that can't be left behind.
News: Stand & Deliver
Pentagon gets a grip on the Viagra gap.
Up to the Task?: See how your kids' school did in the state Standardized Testing and Reporting program.
Climbing Up on Capitol Hill: Check up on the your Congressional Representatives and U.S. Senators--where they stand, how they voted.



The Wild East: On the range with the Tuvan throat-singers.



Talking Pictures: Hilary and Jackie strikes a chord with poet Jane Hirshfield.
Oh, Christina!: An open love letter to actress Christina Ricci.
'All That' and More: A wallflower blooms in teen romance She's All That.



Oral Fixations: Food and sex have been willing bedfellows since the glistening dawn of history.
Heard It Through the Grapevine: Get to the root of all things wine.



Have Mercy: Marin writer Anne Lamott's Traveling Mercies revels in self-indulgence.



Hits & Misses: Three Tall Women stands tall on local theater scene.



Please don't forget to write! The Sonoma County Independent welcomes letters commenting on our coverage or other topics of local interest. Please keep all letters at 300 words or less (we reserve the right to edit them for length and style) and sign them (unsigned letters will not be published). A local phone number must be included for verification. Postal: Sonoma County Independent Letters, 540 Mendocino Ave., Santa Rosa, CA 95401. Fax: 707/527-1288. Email: [email protected]. Emailers, please include name, city of residence and phone number. Letters printed will list email address unless otherwise specified. Letters to the editor are not currently published in the online version of this paper.