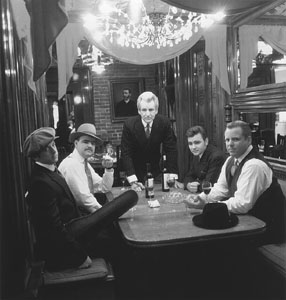 All in the Family: The Del McCoury Band play a hard game.

Pickin' the Hits

Del McCoury Band high on bluegrass

By Greg Cahill

Del McCoury was just 24 years old the first time he met bluegrass pioneer Bill Monroe, a musical hero and towering figure in the country-music world. "I had listened to him from the time I was a kid," recalls the 65-year-old McCoury during a phone interview from his Nashville home. "My dad always had the Grand Ole Opry broadcasts on the radio every Saturday night, and Bill was my favorite on that show. I never dreamed that I would be able to play with him.

"But it just so happened that I was in Baltimore one night playing banjo with Jack Cooke's Virginia Mountain Boys, led by an ex-guitar player with Bill's legendary Blue Grass Boys, when Bill came in and sat down right next to the stage. I thought, 'Wow, is that Bill Monroe?' Talk about nervous--I just about dropped over dead."

Monroe, in town to pick up Cooke for a show in New York City, enlisted McCoury as well. A few weeks later, McCoury found himself in Nashville playing banjo with Monroe in the world's most famous bluegrass band. Eventually, McCoury switched to guitar and lead singing duties, staying with the band until 1967.

What did he learn from Monroe? "Probably more things than I'll ever admit or realize," he says in his soft-spoken Southern drawl.

By the time McCoury left the Blue Grass Boys to form his own band, he had established a distinct high lonesome sound, one that would make him the most widely honored bluegrass player in history. Today his band, which features his two sons, is a bluegrass juggernaut delighting longtime devotees and newfound converts alike.

The band--Del McCoury (acoustic guitar and lead vocals), Ronnie McCoury (mandolin and vocals), Rob McCoury (banjo), Jason Carter (fiddle and vocals), and Mike Bub (bass and vocals)--return on Feb. 22 to the Mystic Theatre in Petaluma.

Since forming under their current lineup, the Del McCoury Band have become the winningest bluegrass band of all time, picking up 30 honors from the prestigious International Bluegrass Music Association Awards, the Grammies of the bluegrass industry. Ronnie McCoury alone has won eight awards as best mandolinist. The band members, collectively and individually, shared in three IBMA Awards this year, including Entertainer of the Year (the seventh time the band has garnered that honor).

The band participated last year in the hugely successful 18-city Down from the Mountain Tour, inspired by the O Brother, Where Art Thou? film and soundtrack. They were also featured on the unprecedented PBS country special All-Star Bluegrass Celebration, filmed live at the Ryman Auditorium, from which those radio broadcasts of the Grand Ole Opry originated during McCoury's childhood.

In recent years, they have recorded with Steve Earle (on his 1999 Grammy-nominated CD The Mountain), and they also contributed to two Grammy-nominated albums this year: the Chieftains' Down the Old Plank Road and the Nitty Gritty Dirt Band's Will the Circle Be Unbroken, Vol. III.

But McCoury is modest about his recent successes. "It's probably easier having my two sons in the band because they think a lot like I do and probably know what I'm thinking," he says. "But I think the whole band has the same respect for old bluegrass--Bill Monroe, Flatt and Scruggs, Cedric Rainwater--all the musicians who got this started and set the standard for everybody. For some reason, even though these guys are young, that's who they listen to."

You'll be hard pressed to find an entertainer more devoted to his fans. Next month McCoury goes back into the studio to record a new album that will include several tracks contributed by aspiring songwriters he met at sea on a recent Delbert McClinton Blues Cruise.
---
The Del McCoury Band perform Saturday, Feb. 22, at 9pm at the Mystic Theatre, 21 Petaluma Blvd. N., Petaluma. Tickets are $23. 707.765.2121.
---
[ North Bay | Metroactive Central | Archives ]