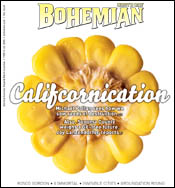 For the Week of
February 16-22, 2005
Cover Story: Califcornication:
Michael Pollan sees how we sow seeds of destruction.
News: Closer to Free
Sonoma County is one step closer to ban on genetically modified organisms.
The Byrne Report: Rigged Game.
Briefs: Napa Goes Green.



Rev: Stakeout!: You might want to keep your door locked to keep out the vermin or other unexpected intruders.



Critic's Picks: A guide to the week's best arts, theater and music events.



Wild Gift: X's 'Unheard Music' DVD makes a present of the past.



Rosco's Song: R&B legend signs off with new CD.
Bushwhacking the Vinyl Jungle: 'Lost in the Grooves' a field guide to forgotten greats.
Reflect and Roar: Young reggae lions Groundation pay annual tribute to Marley.



King of California: Half a century of Upton Sinclair's state of the state.



Listen Up!: Winetasting do's and don'ts for Generation Next.
Swirl 'n' Spit: Vincent Arroyo Winery.
News of the Food: Bowl of Disaster.



A Playhouse Is Born: At long last, Actors Theatre and Santa Rosa Players have the new home they've been hoping, praying and (are still) fundraising for.



Please don't forget to write! The North Bay Bohemian welcomes letters commenting on our coverage or other topics of local interest. Please keep all letters at 300 words or less (we reserve the right to edit them for length and style) and sign them (unsigned letters will not be published). A local phone number must be included for verification. Postal: North Bay Bohemian Letters, 216 E Street, Santa Rosa, CA 95404. Fax: 707/527-1288. . Emailers, please include name, city of residence and phone number. Letters printed will list email address unless otherwise specified. Letters to the editor are not currently published in the online version of this paper.