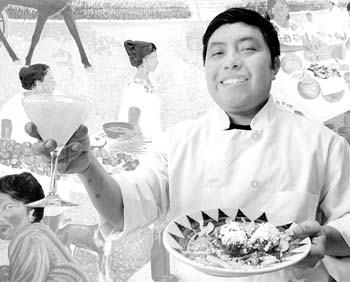 Photograph by Michael Amsler

Valley of the Moon meets Club Med: Chef Manuel Arjona of Maya has whipped up creative dishes--ranging from chipotle-braised lamb shank to vegetable tamales--that match the popular restaurant's vibrant, colorful presentation.

Mad for Maya

Yucatan spirit thrives in Sonoma

By Paula Harris

IF THERE WAS EVER a festive cure to send those winter blahs a-packing, then surely this is it. Maya, an upscale Mexican restaurant on the southeast corner of Sonoma Plaza, is the perfect destination that feels as if you're getting away without actually going very far. The proprietors have transformed the former Della Santina's Italian restaurant (now located down the street) into a tropical hideaway.

From the moment you go through the heavy copper-framed glass door, you're caught up in a happy vacation-like atmosphere. Sort of Valley of the Moon meets Club Med.

The poolside party mood is accentuated by a ceiling painted the sunny azure blue of a foreign sky and a semi-open kitchen with a thatched canopy roof made from exotic palm fronds.

A colorful Yucatan mural, warm deep coral and rough stone exposed walls, blond wood , and a wooden armoire that holds glasses, water jugs, and Mexican artifacts enhance the picture.

Dominating the scene is what can only be called the Tequila Temple: a Mayan-inspired tiered tower boasting rows of shiny bottles of cactus juice. In this watering hole you can ponder the differences among blanco, reposado, and añejo and sample some different 30 tequilas (not all at once, por favor!) available by the half shot.

There's a good wine list too, but many patrons opt for the imported beers and specialty cocktails. The yummy shaken 'n' strained Maya Margarita ($4.95), made with Hornitos reposada tequila, triple sec, and fresh juices and served in a chilled salt-rimmed martini glass with a fresh lime wedge, is a house favorite.

Chunky rustic wooden chairs with curved "butt holders" ensure comfy seating for the casual-chic, Margarita-sipping crowd. Blame the Corona or the Cuervo 1800, but most people do look very relaxed in here.

THE FOOD IS FUN. The thin, warm, slightly salty tortilla chips, served with two salsas, plus fresh diced chilies, onion, and cilantro, are so addictive we munch our way through two basketfuls while mulling the menu.

A small bowl of warm, extremely spicy, toasted pumpkin seeds ($1.50) shocks our taste buds into action. My sleepy commuter companion bites into one particularly vicious seed, abruptly jolts awake, and comments that "it's like taking an upper."

The ratitos--jalapeño masa chips ($2.75)--are empty, puffy dough triangles which are rather oily. The saving grace is a lovely fresh accompaniment of sweet pepper and avocado pico de gallo with cilantro.

A pasilla pepper crammed with chicken and herbs ($4.95) is a satisfying appetizer, although some may find the overall flavor a bit sweet. The expertly roasted chili pepper is fork tender and the finely ground filling is smooth and tasty. It's napped with a creamy sesame seed sauce and sprinkled with another handful of those killer pumpkin seeds.

Our solicitous server recommends the salmon à la parilla entrée ($15.95). It's a vibrant, colorful presentation. The moist salmon is wrapped in a banana leaf, and it pairs really well with the chunks of creamy avocado on the side. Also on the plate are pieces of grilled pepper, onion, and zucchini; rice; and a zesty chili and guava sauce.

Vegetarians can select either the grilled seasonal veggies ($10.50) with warm tortillas and chili and guava salsa (rather run-of-the-mill), or the vegetable tamale ($9.50). The slightly spicy tamale, cooked in a banana leaf, has a good texture--firm but not too dense--and it comes with rice and some really good whole black beans.

Heavier fare includes chipolte-braised lamb shank with lemon zest and mint ($16.50) and Yucatan-spiced grilled rib-eye steak ($19.50) with pasilla and tropical fruit salsa.

As for desserts, the Maya flan ($4.95) is a popular choice. It's garnished with fresh mango and strawberries, as vivid as a tequila sunrise.

But the star dessert has to be the pastel de tres leches ($4.95). This exquisite cake has a thin, custardy, cinnamon-spiked sauce and is garnished with strawberries. It's as moist as a trifle with its rich condensed-milk filling and creamy topping, yet it's as light and delicate as a cloud. "Señora Betty Crocker should make a cake this moist!" brags the menu. And they ain't kidding.

There's a certain brightness to this place, with its cheerful cocktails and sunny cuisine, which should elevate even the most sunken of winter spirits.
---
Maya
Address: 101 E. Napa St. East, Sonoma; 935-3500
Hours: Monday-Saturday, 11:45 a.m. to 10 p.m.; Sunday, 4 to 10 p.m.
Food: Upscale Mexican
Service: Attentive and courteous
Ambiance: Festive and colorful
Price: Moderate to moderately expensive
Wine list: Good selection of local wines; also beers, specialty cocktails, and some 30 tequilas available by the half shot
Overall: 3 stars (out of 4)
---
[ Sonoma County | MetroActive Central | Archives ]