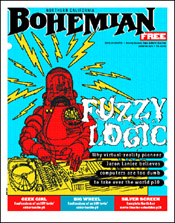 For the Week of
March 1-8, 2001
Cover: Fuzzy Logic
Virtual-reality pioneer Jaron Lanier insists that computers are just too dumb to take over the world.
News: Big Wheel
Confessions of an SUV-lovin' suburbanite.
Usual Suspects: Petaluma water policy prompts a complaint.
Newsgrinder: Important events as reported by daily newspapers and summarized by Daedalus Howell.



Open Mic: In the Doghouse.
Geek Girl: All your base are belong to us--no really!



Volume Control: To show that they're part of the sexy dining scene, eateries crank up the mind-blurring volume.
The Wide-Eyed Gourmet: The Manly Man menu and other strange vittle viewings.
Heard It Through the Grapevine: Get to the root of all things wine.



Wasted Trip: 'The Mexican' squanders cast with cheap stereotypes.
Bad Attitude: 'A Good Baby' has a man who needs killing.
Southern Gothic: 'George Washington' offers haunting tale of small-town life.



Another New Wave: Ladytron reinvent synth pop.
Blue Mood: Robert Johnson tribute is a keeper.
SF Club Guide: Disco divas, hip-hop connoisseurs and salsa suaves to flannel-clad pinball players, jazz luminaries and more from the City by the Bay.
SFJAZZ Spring Season: Five weekends of concerts and films showcasing different jazz instruments and styles.



Just Business? An American company stands accused in 'IBM and the Holocaust.'
London Bridge: Famous writer finds a passionate champion.
Rebel Hearts: 'True History of the Kelly Gang' brings legend to life.



Please don't forget to write! The Northern California Bohemian welcomes letters commenting on our coverage or other topics of local interest. Please keep all letters at 300 words or less (we reserve the right to edit them for length and style) and sign them (unsigned letters will not be published). A local phone number must be included for verification. Postal: Northern California Bohemian Letters, 50 Mark West Springs Road, Santa Rosa, CA 95403. Fax: 707/521-1966. Email: [email protected]. Emailers, please include name, city of residence and phone number. Letters printed will list email address unless otherwise specified. Letters to the editor are not currently published in the online version of this paper.