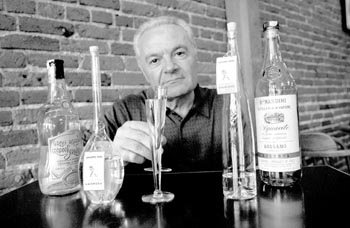 Photograph by Michael Amsler

Getta grappa: Vittorio Belmonte of Portofino's offers 11 kinds of grappa.

The Great Grappa Hunt

Long regarded as the bastard child of the wine industry, grappa gains respect

By Bob Johnson

AS A CUB REPORTER, more years ago than I'd care to admit or remember, I was assigned to interview arguably the greatest baseball play-by-play announcer ever (although Giants fans may disagree), Vin Scully.

In ensuing years I've honed my interviewing technique, but on that bright summer afternoon just outside the Dodger Stadium press box, I actually posed the lamest of all questions to this broadcasting icon. Off my lips rolled this investigative query: "What is the secret of your success?"

I cringe just thinking about it now, but Scully, after a brief glance that indicated he had answered the question hundreds of times before (usually when posed by third-graders), gave me a simple answer.

"Research," he said. "If Willie Mays were to hit a home run tonight, I'd want to have some little anecdote at my disposal that I could mix in with the call. You know, like whether one of the greatest home-run hitters of all time has more homers off [Don] Drysdale or [Sandy] Koufax. I think that's something a baseball fan would be interested in, but it's not something I have committed to memory. I'd need to look it up."

Scully paused, then repeated his initial single-word reply: "Research."

My mind harkened back to that interview when I was asked to write a story on grappa. Yes, I had heard of grappa. Yes, I knew what it was. Yes, I had tasted it before (once . . . that was enough). And that just about summed up my knowledge of the subject.

"Research." I could hear Vin Scully's voice echoing in my head.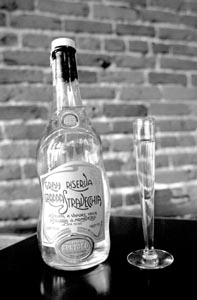 Spirited refreshment: Grappa is making a mild comeback.
Photograph by Michael Amsler

Although published for the first time back in 1967, Alexis Lichine's Encyclopedia of Wines & Spirits remains a valuable tome for information-seeking vino lovers and journalists. Let's see . . . grappa . . . page 279.
"Grappa," Lichine writes, "is the Italian word for marc, or spirit distilled from grape husks. The term is also used in California and in Spanish-speaking countries. Most grappa is harsh, coarse, young and fairly mediocre."
Yummers.
FIRST STOP: Wine, the UC Davis reference written in 1965 by Maynard A. Amerine and Vernon L. Singleton. "Some pomace brandy, produced by distilling fermented pomace [the pulpy substance left over after the grapes are squeezed] in a pot still, has been produced in [California]," they wrote. "It has been called grappa and is sold as a colorless beverage. It is often used in coffee, which seems as good a use as any."
Not exactly a ringing endorsement.
I decided the only thing left to do was travel the highways and byways of Sonoma County and see what I could dig up on my own. I also figured it would only be fair for me to sample a few grappa bottlings so as not to let my only previous impression of the beverage--that of something better suited to a car's gas tank than one's stomach--color my reporting.
Next stop: Viansa Winery in Sonoma, the winery run by Sam and Vicki Sebastiani. Like most wineries in the area, Viansa offers selected bottlings for sampling by visitors. Unlike most wineries, it also offers virtually everything it makes by the glass.
"I'd like a glass of grappa, please," I said to one of the tasting-room personnel.
"Sorry, we're not pouring that today" was the reply. "It is available by the bottle, though."
I looked at the price: $45. I began to walk out. Then I heard that damn voice again: "Research."
So I bit the bullet and shot the hell out of a $50 bill. I would take the Regalo Di Certosa home and sample it alongside other grappa bottlings.
Next stop: Sebastiani Winery, also in Sonoma. "We've made grappa in the past," I was told, "but I'm not sure if we still do."
It was a pleasant day, so I walked a few blocks to the Sebastiani tasting room on Sonoma Square and inquired there.
"Yes, we make grappa," the attendant said. "Would you like to try some?"
"Absolutely," I replied.
While sipping on the pungent elixir, I learned that in 1993 Sebastiani had made grappa by fermenting and distilling the pomace of two grape varietals--zinfandel and barbera--grown in the Sonoma Valley. Distillation took place at Bonny Doon Vineyards in Santa Cruz, using an Arnold Holstein pot still, the model favored in Alsace-Lorraine and Germany, where small producers craft artisan brandies.
Word is another series of distilled beverages may be in Sebastiani's future, this time made in Sonoma.
In Healdsburg, Dry Creek Vineyard produced 260 cases of grappa made from 1997 vintage "old vines" zinfandel grapes. While traditional grappas can be quite bitter and harsh, Dry Creek tamed the excessive coarseness by destemming the moist pomace after light pressing and prior to the distillation process.
The result was a grappa with a creamy raspberry aroma and a delicate mouth-feel. The price: $45 per 375-ml. bottle.
If that's a hefty fare to fork over for a beverage with which one may have little, if any, experience, a good place to test the grappa waters is Caffe Portofino in downtown Santa Rosa. The restaurant's after-dinner drink menu has more than seven dozen choices, including 11 grappas, priced from $6 to $18 per serving. Most were aromatic, flavorful, and much smoother going down than I ever would have thought.
If your impression of grappa is based on an experience that took place years ago, as mine had been, you owe it to yourself to try a more recent rendition. In other words, do a little research.
Vin Scully would be proud.
[ Sonoma County | MetroActive Central | Archives ]