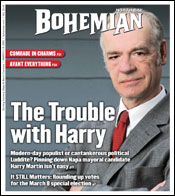 For the Week of
March 2-8, 2005
Cover Story: The Trouble with Harry:
Modern-day populist or cantankerous political Luddite? Pinning down mayoral candidate Harry Martin isn't easy.
News: Every Vote Counts:
Sizing up the upcoming special election.
The Byrne Report: Blind Trust.
Briefs: Race Report Card.



Rev: Just because it's a biodiesel station doesn't mean that people don't drive off with the nozzle still in their car.



Byck's Miracle: Sculpture Sonoma, 2005--coming to a venue near you.
Critic's Picks: A guide to the week's best arts, theater and music events.



War of the Mothers: Dan Harris' 'Imaginary Heroes' wrestle with love and death in Glen Ridge, N.J.



'Souls' Ascending: John Adams gets Grammy nod for 9-11 elegy.
Sticks and Stones: Rest on a futon and crank up the driftwood.



Daughter of the Revolution: Chun Yu's 'Little Green' offers a window of innocence on a dark chapter of modern China.



Soup-o-Rama: Girls' night takes on a whole new meaning with soup.
Are You Vegetarian Enough?: And other ethical head games carnivores love to play with meatless eaters.
Swirl 'n' Spit: St. Supéry.
News of the Food: Not So Sweet.



Male Call: Where have all the good men gone?



Please don't forget to write! The North Bay Bohemian welcomes letters commenting on our coverage or other topics of local interest. Please keep all letters at 300 words or less (we reserve the right to edit them for length and style) and sign them (unsigned letters will not be published). A local phone number must be included for verification. Postal: North Bay Bohemian Letters, 216 E Street, Santa Rosa, CA 95404. Fax: 707/527-1288. . Emailers, please include name, city of residence and phone number. Letters printed will list email address unless otherwise specified. Letters to the editor are not currently published in the online version of this paper.