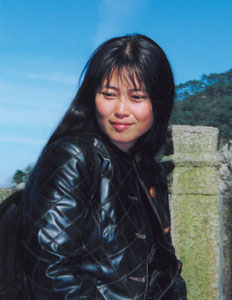 Never Forget: Author Chun Yu recalls the horrors of the Cultural Revolution.

Daughter of the Revolution

Chun Yu's 'Little Green' offers a window of innocence on a dark chapter of modern China

By Sara Bir

Chun Yu is slight, with long black hair and dark eyes that sparkle. At first glance, her girlish looks would prompt any bouncer worth his salt to check her ID. But were one to read Chun's book Little Green, the first few passages would reveal that there's no need:

"I was born in a small city near the East Sea, / When the Great Cultural Revolution began. / My name is Xiao Quing, Little Green, / My country Zhong Guo, the Middle Kingdom. / When I was ten years old, / Our leader died and the revolution ended. / And this is how I remember it."

To meet Chun, who is warm and personable and apt to explode into an infectious giggle, you would never detect that she was born at the exact moment the Chinese Cultural Revolution began, on May 4, 1966. The decade that followed is now referred to by both the Chinese public and government as the Ten Years Great Calamity. Logic and tradition were turned upside down as students betrayed teachers, families splintered and millions died. In her book Little Green: Growing Up during the Chinese Cultural Revolution (Simon & Schuster; $15.95), first-time author Chun tells us of the Revolution as she saw it: from the perspective of a child.

"I think Little Green is a pretty innocent book," says Chun, settling down over tea in her San Rafael home. "I was a child, I was protected by my family. But we had tough lives."

Little Green, written in the form of a prose poem, reveals the everyday wonder and hardships of growing up during a tumultuous period that much of the world is barely aware of outside the context of history books. Chun's narrative gently unwinds to paint memories of a family's quiet struggles, unshakable love and hard-won stability. She was only two when the government sent her father away for re-education in the countryside; the rest of the family stayed behind, leaving Chun's mother to raise her and her brother while working full-time as a teacher. They lived with 11 other families in a long one-story building. In the evenings, many of the children were alone while the adults went to mandatory political classes:

"Often the electricity went out, / an oil lamp was all we had-- / the light glowing only in a sphere-- / beyond that, it was pure darkness. Somewhere in the darkness, I thought, / Mama must be under another sphere of light / with Chairman Mao's Red Book in her hand. / Baba was too far away; / we couldn't imagine what his life was like / and whether he had a sphere of light too."

Almost everyone has tiny incidents of early life etched perfectly in memory--the texture of bright orange shag carpet, the sting of a scraped knee, the muggy panting of the family dog--but few of us can string them together to form a compelling, moving whole. Little Green, which is slender but rich with detail, benefits as much from Chun's vivid recollection of the small and commonplace as it does from its dynamic historical backdrop. The situation may not have been universal, but a child's reaction to the world around her is. This is what Chun captures.

"There are certain things that made such an impression on me, I've never forgotten them," Chun explains. "Those things, I remember every detail of it. I was very young. Most children live in the moment.

"All of the parents had to go to study after dinner, and so all of the grandparents showed up to take care of the kids, because the other choice was to be locked up at home. It's a life that people here would picture as perfect--'Oh, this fuzzy, warm love we had every day'--but love has different qualities. And some love is not that fuzzy, because in that environment we could not afford it to be. But you can see--it's solid, it was very real. I think that's the best gift my parents gave me, this confidence in them that if something happened, I know they would give everything they could."

The story behind Little Green is nearly as remarkable as the story it tells. After getting her master's degree at Peking University, Chun came to the United States in 1991 to earn her Ph.D. in chemistry at Rutgers. She was awarded a post-doctoral fellowship by a joint Harvard-MIT program soon after. "It was very difficult for me here at the beginning," she says. "I went to different ESL classes, but I never felt really confident, because there were a lot of foreigners and only one English teacher."

Chun eventually pursued an English study of her own devising, by reading the New York Times religiously and looking up all of the words she didn't know. "I believed that by reading the newspaper, every section of it--politics, fashion--I'd learn the culture," she smiles. "Every word came upon me. Eventually, I wrote a letter to my sister: 'I have made up my mind. From now on, I will learn this language. I will love it, and one day I will write with a glow.'"

Chun wrote short poems in Chinese and English, and read in the Boston area often. "But I always wanted to tell my own story, and I always wanted to write a book," she says. So she signed up for a Harvard Extension writing class, and that's where the first version of Little Green was created. From the very first sentence, she wrote in English.

"I met many students when I came here, and some of them knew something about China, but most of them, it's just not something that they are very learned about. But I have made many friends here, and they want to know. You can't hand them a history book, 'Learn the history and then come back and talk to me,'" she says. "So I often told them my childhood story, and they got so much out of it. At the time, my country was so isolated from the United States--they were our enemies. So my childhood story had nothing in common with life here on the surface. This desire of communication, trying to help them understand my life, it's always there."

Over the next several years, Chun continued to expand and refine her manuscript. "After my full-time job, I'd come home and have dinner. Then I'd try to stay awake. At one moment, you're finally awake, in the quiet of night. I waited for these moments to come to me. I really never forced anything. This pool of stories in my head that I cared about, each story finds its moment to tell itself. Actually, I wrote the beginning and the ending on the same day. And the story in the middle just showed itself from moment to moment."

Even though she had been sharing her manuscript with friends and her writers' group, Chun wasn't actively seeking publication. "I was really inexperienced. I had no idea about agents, I had no idea about the publishing business. At the time, it seemed too early to think about getting an agent." But on a tip from a friend, Chun e-mailed her manuscript to an employee at Simon & Schuster. Taken with Chun's work, he called it to the attention of editor Paula Wiseman.

"In a few days," Chun says, "she sent me this long e-mail, and she said some very nice things about the book. I had no idea who Simon & Schuster was then. I was just so lucky. I truly met people who read the book and came back with unbelievable encouragement."

Just as Little Green found a publisher, Chun accepted an offer to work as a principal scientist at Medtronic, a medical device company whose vascular division is in Santa Rosa. Chun recently took a leave of absence from Medtronic to focus on her writing and complete two more manuscripts that will pick up where Little Green left off, forming a trilogy. As Chun grows, so does the voice of the narration; the last book will eventually come to the time of the Tiananmen Square demonstrations, which Chun participated in.

"Many, many Chinese people lived as I did," she says. "I feel this kind of life is poetry. You don't need to have huge drama--what happened is already enough. I just want people to know exactly how life was; I didn't need to make up anything."
---
Chun Yu appears on Thursday, March 10, at 7pm at Copperfield's Books' Montgomery Village store (2316 Montgomery Drive, Santa Rosa, 707.578.8938); Tuesday, March 15, at 7pm at Book Passage (51 Tamal Vista Blvd., Corte Madera, 415.927.0960); and on Sunday, March 20, at 11am at Barnes & Noble (700 Fourth St., Santa Rosa, 707.576.7494). All events are free.
---
[ North Bay | Metroactive Central | Archives ]