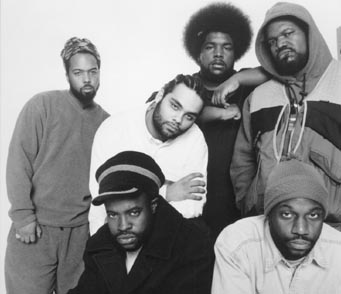 T. Hopkins

Hip-hop nation: Members of the Roots boast a new CD and a local concert this weekend.

New CDs by the Roots, Steve Earl, Ricky Skaggs, Built to Spill, Tom Russell




The Roots
Things Fall Apart
MCA

WITH EX-FUGEE Lauryn Hill's solo debut CD The Miseducation of Lauryn Hill taking hip-hop's first Album of the Year award at the Grammies last week, the nod to so-called alternative-rap seems to be at its peak. What is it? The groove connecting alt-rap groups like A Tribe Called Quest, Digable Planets, and Outkast has been called "intellectual rap" in that it favors live instruments over samples, jazzy textures over party funk, and self-reflection over gangster gruffness. On closer view, however, this is a white rationale for enjoying rap--those familiar with hip-hop history know that Dr. Dre pioneered live instruments on The Chronic, that the work of the Geto Boys is loaded with self-evaluation, and that the samples behind many hardcore raps come from '70s jazz. Alt-rap is a blurry line, and the real deal is still MC and DJ skills. Thus, Philadelphia's rap/jazz group the Roots is not, as it's been called, "hip-hop's best band" so much as the hip-hop band the white press most loves to hype. They acknowledge this on their third disc Things Fall Apart, but that's about as brave as they get on a work whose title and five different gripping album covers promise something more apocalyptic and compelling. Their live drums, stand-up bass, and keyboards provide some creative sounds--full cymbal crashes on the aptly titled "Ain't Sayin' Nuthin' New," a simulated Philly-soul sound on "Act Too (the Love of My Life)," drummer ?uestlove actually playing techno's drum 'n' bass rhythm behind the Erykah Badu cameo, a dialogue of vocals and scratches on a hidden track. But the content of the disc is unfocused, the raps are run-of-the-mill boasting that don't tell stories, and on "Adrenaline" they make a gangsta shoot-'em-up call that alt-rap is supposedly beyond. Early on the disc, lead rapper Black Thought says, "Instead of trying to take you under/ I make you wonder." I wonder why hip-hop, as profound as it is, has to act intellectual. Still, the Roots are known as a tremendous live act, so save your money on this disc and catch them Saturday, March 6, at the Phoenix Theatre in Petaluma.
--KARL BYRN
---
Various Artists
32 Gems from 32 Jazz
32 Jazz
UNDER THE CAREFUL guidance of longtime jazz producer Joel Dorn, this much-welcomed New York- based jazz and blues reissue label over the past two years has released discs chock full of rarities and long out-of-print recordings--all at bargain prices. In that time, critics have sung the praises for 32 jazz tracks by post-bop saxophonist Rahsaan Roland Kirk, Charles Mingus, Les McCann, and many others. This three-CD sampler shows what all the fuss is about--and true to its word, these are indeed 32 bona fide gems from the likes of pianists Horace Silver and Red Garland, reedmen Charlie Rouse and David "Fathead" Newman, soul jazz pioneer Richard "Groove" Holmes, and many more. Not just a great introduction to a great label, but also a sizzling selection of some of the genre's shining stars.
--GREG CAHILL
---
Built to Spill
Keep It Like A Secret
Warner
BUILT TO SPILL won't change the face of rock, but they have changed themselves. The Seattle trio makes effortless emo-core (an outgrowth of indie lo-fi and grunge in which yearning vocal/melodic emotions strain through cascading guitar dynamics) that is trad-rock in its noisy desire to make sense and alt-rock in its sweet insistence that nothing makes sense. They lean to the former here, as they abandon the complex structures that were almost a breakthrough on 1997's Perfect from Now On. Instead, these songs are linear four-minute bursts, not their previous eight-minute meanderings through chord and tempo changes. This should be a change for the better--more direct structures equaling more direct statements, but Built to Spill now sound less eventful. Still, their new alt-rock normalcy isn't bad--from out of the whirl and clatter of guitars emerges a smart rhythm section.
--K.B.
---
Steve Earl and the Del McCoury Band
The Mountain
E Records
Ricky Skaggs and Kentucky Thunder
Ancient Tones
Skaggs Family/DNA
AT THE START of Nashville renegade Steve Earl's latest CD, the singer can be heard singing the opening of the "The Mickey Mouse Club" theme song and informing the band that its time to don their hats. It's a typically self-effacing moment from the newly reformed bad boy of country music--here in a tribute to late Bluegrass pioneer Bill Monroe--but there's nothing Mickey Mouse about these sessions. Earl has teamed up for with ex-Monroe sideman Del McCoury and his band--arguably one of the best in the genre--and a guest list that includes Emmylou Harris, Iris Dement, Gillian Welch, and John Hartford for 14 heartfelt interpretations from the heartland. Kinda miss the bad-boy ruminations, but this is one helluva an outing. Meanwhile, country superstar Ricky Skaggs has released the followup to last year's Grammy-nominated bluegrass album. Ancient Tones is a sweet, soulful front-porch session from one of the best mandolinists and guitarists in a field overgrown with talent. Most of the tunes are by Bill Monroe and Ralph Stanley. All the pickin' is seriously fine. High and lonesome? You betcha!
--G.C.
---
Pick of the Week
Tom Russell
The Man from God Knows Where
Hightone
SINGER/SONGWRITER Tom Russell--a neo-folkie with close ties to ex-Blaster Dave Alvin, Nanci Griffith, and others-- plumbs his roots on this concept album tracing the migration of his kinfolk in their search for a new life. This earnest, often compelling song cycle--with guests that include the ubiquitous Iris Dement--follows the paths of his Irish and Norwegian ancestors to what Russell calls "a rawer, more primitive America," far from the star-spangled suburban wonderland that harbors the modern middle class. "We sing here of the triumph of individuals in the face of isolation, rootlessness, disease, madness, and suicide," Russell writes in the liner notes, In the face of all that hardship (Russell's own father, Charlie, a gambler and horse trader, died poor and alone in 1997 in a California nursing home), Russell celebrates survival. And isn't that what life in America is all about?
--G.C.
[ Sonoma County | MetroActive Central | Archives ]