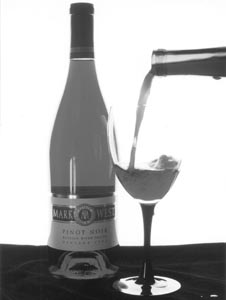 Michael Amsler

Thoughts on wine prices

By Bob Johnson

THE MOST COMMON question I get when speaking to high school or college journalism students is: "Why did you decide to become a writer?" My answer: "Because I sucked in math." Algebra and I got along OK, but geometry was like a foreign language. It must be genetic because my older brother parlayed an aptitude for math into a lucrative career in the computer world. It's obvious he got all of the Johnson family's math genes. Perhaps because of my numerical deficiency, I've never been able to understand why a $50 bottle of wine seldom is five times better than a $10 bottle. Or why some $12 bottles are actually more enjoyable than some costing $24.

When it comes to determining a wine's quality, price does not provide the answer, but rather merely a clue.

Why is this so? Because there are so many factors that influence the price ultimately charged for a bottle of vino ...

Size counts. A tiny, family-owned winery that produces a few thousand cases a year is probably going to charge more than a multibrand mega-winery for a bottling of similar quality. According to my brother, the mathematician, smaller wineries need to make more money per bottle in order to make ends meet and show a profit, while larger wineries enjoy certain economies of scale.

Grape expectations. You'll never hear the term "dirt cheap" in Sonoma County. Vineyard land is pricy and so, too, is planting and maintaining a vineyard. Viticulturists (a fancy name for grape farmers) who plant and prune in such a way as to produce yields of lesser tonnage but greater quality push the price up as well.

Eat a tree. Do you enjoy the creamy vanillin flavor and spice nuances common in wines aged in oak barrels? Those taste sensations come with a cost. Quality French oak barrels command a minimum of $500 apiece, and they work their flavor-enhancing magic for only a few years before they're put out to pasture and turned into planters.

The reviews are in. When a bottling receives a five-star, four-cork, or 90-plus rating from a wine critic, or a gold medal in a prestigious wine competition, a certain amount of consumer demand is created. When this happens, you can bet that the price will go right up in some retail outlets, and the following vintage's wholesale price will increase as well--even if the quality lags and the accolades subside.

Perception is reality. A Sonoma County winemaker who shall remain nameless once told me that the easiest way to sell wine and make lots of money would be to introduce a new bottling and price it at 75 or 100 bucks. "At that price," the vintner said, "people will assume the wine must be fabulous and collectors will gobble it up before the critics have a chance to taste it."

IN SHORT, determining the price to charge for a bottle of wine is a real crapshoot. And for us consumers, finding a truly wonderful wine at a price we consider reasonable also can be challenging.

My advice: Determine a price point with which you're comfortable, stick with brands you've liked in the past, ask your friends for suggestions ... oh yeah, and follow the guidance of your friendly neighborhood wine critic.

Speaking of which, here are two homegrown bottlings that represent excellent quality and value:

Preston Vineyards
1997 Faux
Dry Creek Valley

When the time comes to grill a burger and smother it with onions and ketchup, this is the wine to uncork. Vintner Lou Preston calls this blend of estate-grown mourvedre, syrah, carignane, cinsault, and grenache "fun to drink," and we agree. There's nothing pretentious about Faux; it's quite fruity, pleasingly juicy, and, we might add, somewhat addicting. And at $11 per bottle, you can afford to cook up two burgers. Rating: 3 corks.

Mark West
1996 Pinot Noir
Russian River Valley

Although the suggested retail price is a few bucks higher, this wine has been seen on some shelves for less than $10. And at that price, it ranks among the best single-digit pinot noirs on the market today, brimming with strawberry and raspberry aromas and flavors. Try it with grilled or broiled salmon, or simply pour a glass and cozy up to the fireplace with a good book. Rating: 3 corks.
---
Cork ratings: 1, commercially sound; 2, good; 3, very good; 4, outstanding.
---
[ Sonoma County | MetroActive Central | Archives ]