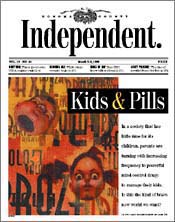 For the Week of
March 5-11, 1998
Cover: Kids & Pills
In a society that has little time for its children, parents are turning with increasing frequency to powerful mind-control drugs to manage their kids. Is this the kind of brave new world we want?
News: Dirty Business
Can growers live with proposed USDA organic regulations?
The Unknown Hacker : A man identified only as Analyzer says he is the real Pentagon Hacker.
The Scoop: CNN PR SNAFU at OSU.



(Still) Raisin' Hell: After scaling personal and professional tribulations, Run-D.M.C are back in black.
Spins: A quartet of noteworthy new jazz CDs.



Talking Pictures: Renowned social reformer and notorious ex-prostitute Margo St. James on the power of sex and Dangerous Beauty.
Cold Comfort: Identity and reality get the sci-fi shuffle in Dark City.



White Out: Those young white wines are ready to drink.



Perfect Timing: The Actors' Theatre production of All in the Timing bangs a gong.



Southern Lights: Novelist Shirley Ann Grau crosses the color line to create memorable characters in black and white.
Zen Flesh, Zen Bones: Petaluma author Carol Flinders seeks a spiritual feminism.
Sex in the Afternoon: Novelist Mary Gordon is Spending her time wisely.



Ad Nauseam: Even television advertising isn't as good as it used to be. Or is it too good for its own good?



Please don't forget to write! The Sonoma County Independent welcomes letters commenting on our coverage or other topics of local interest. Please keep all letters at 300 words or less (we reserve the right to edit them for length and style) and sign them (unsigned letters will not be published). A local phone number must be included for verification. Postal: Sonoma County Independent Letters, 540 Mendocino Ave., Santa Rosa, CA 95401. Fax: 707/527-1288. Email: [email protected]. Emailers, please include name, city of residence and phone number. Letters printed will list email address unless otherwise specified. Letters to the editor are not currently published in the online version of this paper.