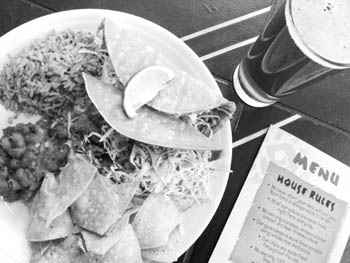 Photograph by Michael Amsler

Baja Beyond

Cheap seafood hooks 'em at Rubio's Baja Grill

By Paula Harris

THE STORY is a cute one. According to the corporate PR machine at Rubio's Baja Grill chain, the fast-food taqueria was spawned like this: In the mid-'70s, San Diego State University student Ralph Rubio idled away his spring breaks at San Felipe, a Baja fishing village, where he discovered the local delicacy, fish tacos; he nabbed the recipe; and when his dad challenged him to get his suntan-lined butt off his surfboard and make something of his life, young Ralph opened a walk-up taco stand in San Diego. Since that day in 1983, so goes the legend, Rubio's has sold more than 38 million fish tacos.

Now Rubio's Baja Grill has opened in Santa Rosa at the Plaza Shopping Mall, between Fresh Choice and the giant grasping hand sculpture. You may have seen the bright neon signs and exotic palapa-style umbrellas with dried palm fronds outside.

Yes, it's fast food and not fancy, yet Rubio's has a laid-back charm--even for a walk-up taqueria. A cross between nearby Sonoma Taco Shop and the Cantina, it's bright and festive with a coral-tiled floor, tables decorated with colorful suns, chilies, fish, maps of Baja, and little mottos like "Fish tacos and cerveza, the two best amigos a lime ever had."

There are prints of tropical scenes, complete with palms and hammocks by the ocean, a small aquarium (no, the inhabitants won't end up in your burrito), and happy music on the sound system. We line up and place our order with the cheerful kid behind the counter who dutifully raves about the fish tacos.

Rubio's uses Alaskan pollack (a white fish in the cod family), which is then beer-batter fried until crispy and heaped into a warm soft corn tortilla with shredded cabbage, salsa, and a light tasting white sauce, and served with a wedge of fresh lime. The effect is a crunchy, mild fish-flavored treat that will reel you in at $1.89.

There's also a marinated char-grilled fish taco, with the type of fish changing on a monthly basis. Today they're serving a mahi-mahi taco for $2.65.

But best of all is the lobster taco ($2.99)--real lobster meat in a warm soft corn taco smeared with guacamole and a slightly zesty sauce, plus shredded cabbage and salsa made with tomato, green pepper, onion, and fresh lime. The slightly salty tender gobs of warm lobster meat enliven the taste buds and, indeed, cry out for a slug of cold beer to wash it all down.

There are bottles of beer on ice at the counter, domestic for $1.95 and Mexican for $2.95 a bottle. A glass of house chardonnay is $2.65. There are also plenty of choices in sodas and other soft drinks.

Other menu highlights include a grilled chicken burrito ($4.79)--fresh, colorful, and inviting with tomato, onion, cilantro, and good chicken, and not overblown with leaking cheeses and sauces; fresh (though a bit bland) guacamole ($1.65/small, $2.69/large); and pale-hued but peppery and tasty refried beans (99 cents). Thick, not too greasy, corn chips are 99 cents for a side order.

Kids' meals offer a variety of choices (like the fish taco or chicken taquito) with chips or beans or rice, a churro, and a prize ($3.29).

A nice touch is the salsa bar, where you can load up on fresh salsas on ice (picante, verde, or regular). Whole chilies and lemon and lime wedges also come with your meal.

Desserts are limited to a chocolate ice cream-filled taco concoction ($1.89) or a hot crisp churro--a doughnutlike stick that encaramelizes the lips with cinnamon and powdered sugar (another deal at 99 cents).

For sheer value, this place is quite a catch.
---
Rubio's Baja Grill
Address: 1016 Santa Rosa Plaza, Santa Rosa; 707/546-3267
Hours: Monday-Saturday, 10:30 a.m. to 9 p.m.; Sunday, 10:30 a.m. to 8:30 p.m.
Food: Fast-food taqueria, seafood tacos
Service: Friendly counter folk
Ambiance: Laid-back beach-type
Price: Cheap
Wine list: One house chardonnay; beer and sodas rule here
Overall: 2 1/2 stars (out of 4)
---
[ North Bay | MetroActive Central | Archives ]