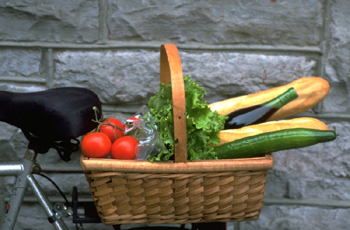 Dejeuner Sur Le Bike: 'The Urban Picnic' counsels that eating out of doors should be a kick, not an ordeal.

Eat Out More Often

In the spring, every person's fancy turns to picnics

By Gretchen Giles
---
What can be more charming than than a rural excursion to some tangled thicket, the very brambles and poison-ivy and possible copperhead snakes of which are points of unspeakable value to a picnic party because they are sensational and one cannot have them in the city without rushing into fabulous extra expense?
-- "Advice to Picnic Parties," Punchinello, 1870
---
Forget the calendar and look out the window. While it's not officially due until March 21, spring--good, sweet, darling spring--has assuredly sprung. Last week's torrential rains and moody skies are forgiven as wildflowers burst forth from all of that watery bounty. And while a young person's fancy may turn to many things, picnics should surely figure largely among them.
While eating out of doors was no luxury to early man, we have presumably evolved in the ensuing centuries, meaning that bringing all of the burdens of the kitchen and dining room out of the kitchen and dining room and setting them up all over again in the wilds of nature is, well, a luxury.
Nineteenth-century picnics certainly were luxurious. Those Merchant-Ivory films have it right: send the servants out into the woods ahead of time, have them set up carpets, tables, linens, candles, flowers, ice buckets, gramaphones, damask-covered chairs and the makings of a seven-course meal, and we'll be along after we're done scouting rare butterflies.
Actually, the earliest picnics, according to John Burns' and Elisabeth Caton's new book, The Urban Picnic (Arsenal Pulp; $21.95), were more along the lines of a potluck. The organizing host would devise a menu and assign guests various dishes, which were to be prepared by one's cook and delivered by servant.
A typical afternoon's repast for some 20 hungry souls, as suggested by cookbook author Mrs. Beeton in her 1861 Book of Household Management, should include at least 10 pounds of beef ribs, four lobsters, four roast chickens, two cold cooked chickens, a small ham, a veal and ham pie, four loaves of bread and two pounds of biscuits, two pies, two jellies, a large salad, pounds of cheese, a dozen apples and pears each and an astounding etcetera. The men were to supply the beverages, so please add a case a piece of wine and beer, bottles of sparkling water and much fresh lemonade to the list.
All of this cavorting in nature was guaranteed to promote but one thing, and that's where babies come from. Accordingly, strict rules about chaperones were duly enforced, and young people who dared the erotic thrill of the picnic were expected to invite a mother or married woman along to keep the pleasures tamped to a reasonable simmer.
Similarly, whilst bloated on lobster, beef ribs, chicken two ways, ham and veal pie, picnickers were expected to not give into the rural thrall of the land but to consider poetry and God as they went. In her 1896 manners book, etiquette mistress Maud C. Cooke chides that one should always "possess the power to find sermons in stones, books in the running brooks and good in everything."
Fair enough. But we're hungry.
Fortunately, Burns and Caton step far away from manners and seven-course meals in their Urban Picnic compilation, advising that a meal eaten outdoors, whether it be in park or bus station, seashore or freeway rest stop, should be easy to prepare, feature much excellent wine and be accompanied by great music. Offering menus that range from the classic grassy knoll spread to what to bring for picnicking at a music festival, while backpacking, lolling on blankets at an outdoor film festival, in honor of Shakespeare or even in the air-conditioned confines of a hotel room, the pair keep it simple, suggesting items that can be purchased already made, in the event that both the chef and servant have the day off.
---

Isn't It Romantic?

Given the giddy nature of the season, it seems appropriate to plan the first picnic of the year in homage to love. Urban Picnic authors Burns and Caton suggest a sparkling wine but we specifically urge you to seek out and forcefully capture a bottle of Carol Shelton rosé (the 2003 is appropriately called "Rendevous") to accompany a picnic of roasted pear and chevre phyllo pastries (roast peeled, halved buttered pears in a 350 degree oven for 30 minutes. Dice and place in prepared phyllo dough with goat cheese. Brush with butter and bake); artichokes in vinaigrette (cook fresh artichoke hearts until tender, mix with favorite viniagrette); chocolate-dipped strawberries (buy 'em!) and the alluringly named Duck Breast Rapido (recipe below). Musical suggestions include Phillip Glass piano pieces, and the lute music of Sylvius Weiss. And la di dah . . .

Breast of Duck Rapido

4 medium duck breasts
4 cloves of garlic, halved
salt and pepper to taste
2 tbsp. olive oil
4 tbsp. Dijon mustard
2 eggs, beaten
1 c. best-quality breadcrumbs

Preheat oven to 375. Make two small incisions on the skin side of each breast and insert garlic into the meat. Season with salt and pepper to taste. In a sauté pan over medium heat, warm oil until almost smoking and place breasts skin side down. Cook for four to five minutes per side, until browned all over. Remove from pan and drain on paper towels.

Brush duck thoroughly with mustard. Place beaten eggs and breadcrumbs in separate bowls and dip each breast first in egg, then in crumbs. Place breaded breasts skin-side down in glass baking dish and roast for 20 minutes. Let cool and pack for picnic!

--G.G.

[ North Bay | Metroactive Central | Archives ]