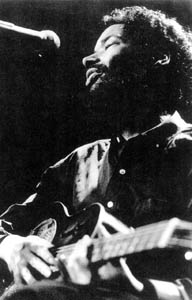 Mighty 'Earthquake': Paul Pena returns to the Powerhouse Brewing Co. in Sebastopol.





Deep Blues

Bluesman Paul Pena's amazing journey

By Greg Cahill

CALL IT AN EPIPHANY. Looking for a way to keep his mind off his depression that accompanied his wife's debilitating illness, Paul Pena in 1984 turned to searching short-wave radio broadcasts for foreign-language lessons. "Rather than crawl into a bottle for the rest of my life, I wanted something to occupy my mind," says Pena, noting that his wife's long illness and subsequent death had left him severely depressed. One night he encountered eerie, oscillating whistles that immediately caught his attention. "At first, I thought the radio's diode had blown out," says Pena, a blind bluesman who penned the 1977 Steve Miller hit "Jet Airliner" and whose 1973 "lost" album New Train (Hybrid) was released last month to critical acclaim, "but then I realized there was a discernible melody. So I listened some more and discovered it was Radio Moscow and the sound was a guy singing two notes at once.

"Oh, man, all my training told me that was impossible, but I became determined to learn it!"

It took years to track down (the radio announcer had given the wrong pronunciation of the singer's origin), but Pena eventually figured out that the strange sounds he heard that night were the work of a polyphonic throat-singer from the isolated Republic of Tuva in Central Asia.

And, most remarkably, Pena eventually mastered the difficult technique.

The rest is history, thanks to a film documentary by Roko Belic. His Genghis Blues chronicles the amazing journey that in 1995 took Pena from urban San Francisco to a remote region of the Asian continent, where he became the first Westerner to participate in a rigorous throat-singing symposium. He befriended the legendary Tuvan throat-singer Kongar-ol Ondar. Pena, who mastered the low resonant kargyraa throat-singing style, was dubbed "The Earthquake" by the Tuvans.

The documentary had its world premiere at the 1998 Mill Valley Film Festival and screened last month on the Sundance Channel (the long-awaited soundtrack finally was released in February on the San Francisco-based Six Degrees label). The film makes a poignant statement about the impact cross-pollination is having on these deeply held musical traditions while revealing the wealth of musical knowledge the world possesses.

Pena, who also contributed to the critically acclaimed 1997 CD compilation Deep in the Heart of Tuva: Cowboy Music from the Wild East (Ellipsis Arts), is helping spread the gospel about the arcane vocal technique he mastered, which until recently had been deemed impossible by most musicologists.

He believes that Genghis Blues could open a whole new world for Western audiences. "I think this is an important musical technology that for the most part we haven't been made aware of," he says. "I'd like to see someone who is well known use it to make more people aware of it. You don't have to just do Tuvan traditional music with it. Our CD is a combination of Tuvan traditional, blues, and Cape Verdean morna.

"For all intents and purposes, this is a wholly new instrument. I'd like to see it develop."
---
Paul Pena performs Saturday, March 17, at 9 p.m. at the Powerhouse Brewing Co., 268 Petaluma Blvd., Sebastopol. Tickets are $12. 707/829-9171.
---
[ North Bay | MetroActive Central | Archives ]