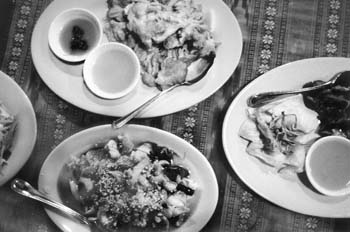 Michael Amsler

Totally Thai: Sonoma County may be enjoying a culinary boom that is drawing diners to local Thai restaurants.

Thai Issan serves up exotic flavors

By Paula Harris

MANY PETALUMANS were acquainted with Fino Restaurant, the landmark upscale Italian eatery situated prominently at the bustling intersection at Washington Street and Petaluma Boulevard North, the city's multisyllabic Main Street. Fino was the local destination for a plate of penne puttanesca--"hooker's pasta"--tossed down with a glass of chianti, as you sat by the window in the airy dining room and watched the traffic headlights stream by outside.

Now the place has switched continents.

Those robust traditional Italian pasta dishes are gone, replaced by tangy stir-fried Pad Thai Talay. Italian decorative touches have been replaced (for the most part) by those seemingly requisite photos of formally attired Thai royalty.

Fino has morphed into Thai Issan.

At first, the new Thai owners attempted to preserve Fino as an Italian restaurant because they figured the place had name recognition and a loyal following. Six months ago, the menu boasted a weird mishmash of Italian and Thai dishes. Now the newly named Thai Issan (which refers to a Thai region and also denotes prosperity and vastness) has ditched its so-so renditions of Italian fare in favor of a complete Thai menu.

Yet the ghost of Fino still mingles with the rich new scent of sweet basil and coconut milk. Outside, the restaurant is just the same, with its pale walls and strange dark-tinted windows. The name Fino is still visible on the awnings and entranceway. Inside, the white lacy curtains are the same, as are the chairs. And the evening view of passing headlights is identical, so it's quite a culture shock when the server suddenly brings hot sticky rice in a small enclosed basket and chili dipping sauce instead of focaccia and olive oil.

Once we'd made the culinary adjustment, we wrestled with the huge menu selection (84 items). The place was really busy (it was a Saturday night), but the servers didn't rush us. In fact, they seemed relieved to get the breathing space as we debated our options. Our food later came in dribs and drabs, but that rather suited our relaxed mood.

First up, we tried the Pla Muk Ping ($6.25), pieces of lukewarm plain grilled calamari accompanied by a slightly sweet, undistinguished dipping sauce. The calamari tasted fresh, though a bit plain, and had a firm, non-rubbery texture.

Poh Piah Tod ($5.95) are golden spring rolls packed with shredded vegetables, glass noodles, and Thai herbs. They arrived piping hot and rather oily. The savory filling was slightly spicy.

The Garm Poo Tod ($9.95), deep-fried king crab claws dipped in tempura batter and served with sweet and sour sauce, seemed overpriced. The half dozen claws were tiny, each containing but a semi-mouthful of sweet flaky meat. They were covered in a crunchy batter and served with more of that monochromatic sweetish sauce.

We enjoyed the Hoy Cheo Tod ($7.95), several golden ultra-crunchy batter puffs, each containing a soft, buttery scallop, served hot and fragrant. The pairing of crisp and smooth in one bite created a great combination of textures on the tongue.

On to the entrées: Gang Pedd Yang ($11.95) was a creamy curry featuring sliced boneless roast duck. The succulent duck was doused in a sumptuous tomato-coconut sauce that sopped up the accompanying steamed rice well. Warning: The sauce (consisting of red curry paste, coconut milk, tomatoes, chili, pineapple, and sweet basil) was ordered "medium" but was, in fact, quite fiery.

Vegetarians may enjoy the Pad Ma-khur ($7.95), pieces of sautéed eggplant and bean curd with black bean sauce, garlic, chili, and sweet basil. The generous chunks of eggplant were meltingly tender, and interspersed with tofu squares in a thick sauce. Very tasty, though rather salty.

Gai Pad Khing ($7.95) featured sautéed sliced chicken with ginger, onions, tomatoes, and mushrooms. A light, fresh ginger tang sparked up this good, though plain, dish.

Thai Issan has a mid-sized, mid-priced wine list. A 1997 Raymond Reserve Napa Valley sauvignon blanc ($28) was a light, dry accompaniment.

For dessert, the fried banana ($3.50) was served with excellent coconut ice cream. And the sweet rice with mango ($3.95) was molded rice dusted with crushed peanuts and accompanied by cool slices of fresh ripe mango. Deliciously exotic!

Seems Thai restaurants are enjoying a culinary boom in Sonoma County. Must be something to do with the great fiery, sweet, fresh, tangy, tart interplay of flavors. Will it overtake Italian? Probably not. But Thai Issan is a good place to start your sampling.
---
Thai Issan
208 Petaluma Blvd. N., Petaluma; 762-5966
Hours: Lunch, Mondays to Saturdays, 11:30 a.m. to 2 p.m.; dinner, 5 to 9 p.m. Sundays to Thursdays, and to 10 p.m. Fridays and Saturdays
Food: Fiery, sweet, and tangy Thai
Service: Good and friendly
Ambiance: Large room, high ceiling; tends to get noisy
Price: Moderate
Wine list: Mid-priced selection
Overall: *** (out of 4)
---
[ Sonoma County | MetroActive Central | Archives ]