[ MetroActive Central | Archives ]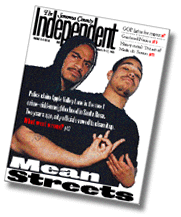 This Week


March 21-27, 1996

Cover
Street of Broken Dreams:
Despite the bucolic name, Apple Valley
Lane is at the heart of Santa Rosa's
high crime district. But the residents
don't want to put up with it anymore.

News
Usual Suspects: Primary colors fly for EMILY's List; Don Kocalis is outta here.

News Briefs: Animal shelter bid; Raven owner sued; salmon season cut; Price Club closes.

Arts & Entertainment
Talking Pictures: Lesbian author Leslea Newman takes flight from The Birdcage.

Heavy Metal: The work of Mark di Suvero explores the edges of space.

All Riled Up: Steve Riley and the Mamou Playboys fiddle around with bayou-stompin' Cajun music.

Return of the Thin Gold Duke: Restored to its former grandeur, Lawrence of Arabia returns to the big screen.
---
This page was designed and created by the Boulevards team.
Copyright &copy 1996 Metro Publishing and Virtual Valley, Inc.