[ MetroActive Central | Archives ]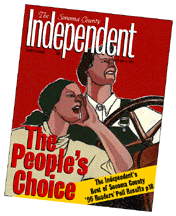 This Week


March 28-April 3, 1996

Cover
The People's Choice:
In the Independent's second annual
Readers' Poll, locals told us where
to find the best entertainment,
food, romance, kids' stuff,
recreation, and useful services
in Sonoma County.

News
Ballot Boxing: Election upsets set stage for hot November contests.

Klaas for Alarm: Inspired by the spirit of a missing girl, the Polly Klaas Foundation now struggles to achieve its aims despite mismanagement.

Usual Suspects: Anti-nudity ordinance verdict is in; Frank Riggs switches lanes.

News Briefs: Evangelical rally at Santa Rosa High causes an uproar.

Arts & Entertainment
Movies: Reviews and show times for Sonoma County.

County Culture: From honky tonks to body piercings to the Grateful Dead, Sonoma County's culture spans time and space. Here's a few nearby planets worth visiting.

Nouvelle Not: Locals know that high-end yuppie gourmand stuff is mostly for the tourists. Real Sonomans prefer more down to earth food stylings, including those of readers' fave, Claudio's Trattoria.

Independent Romance: Where's the best place to take a romantic, sunset-lit stroll? Where's the best place to buy furry handcuffs?

Kid Korner: Whether you're looking for indestructible jeans for junior or just a place to let the kids act like kids, you'll find plenty of childish delights around town.

Restin' & Recreatin': If you've been online so long you've forgotten the concept of wind, take a tour of Sonoma's sand-swept beaches, grand sequoias, and twisting back roads. Just don't forget your antihistamines. If you find that too daunting, how about a game of pool?
---
This page was designed and created by the Boulevards team.
Copyright &copy 1996 Metro Publishing and Virtual Valley, Inc.