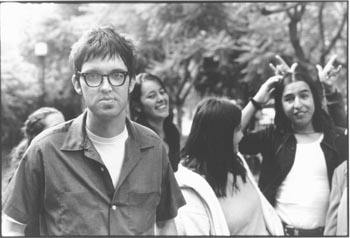 Photograph by Autumn De Wilde

Slippin' and slidin': Eels head honcho E returns.

Sound Advice

An avalanche of aluminum and acrylic for your entertainment pleasure

The Eels
Daisies of the Galaxy (DreamWorks)

THE SNIPPET of a funeral march at the opening of this disc signals a new beginning for Virginia-born singer/
songwriter E and his ever-shifting band. The much anticipated follow-up to the Eels' 1998 CD, Electro-Shock Blues, finds E slowly wriggling out of the funk that marked that acclaimed CD, largely inspired by the suicide of his sister and the long illness and imminent death of his mother. Presenting an unblinking look at mental illness and death, that disc concluded with the words "maybe it's time to live." On Daisies, E acts like a slacker Mr. Rogers, leading a tour around the neighborhood, sometimes dark and brooding, sometimes merry in a the-meds-have-finally-kicked-in sort of way. There's a goofy but endearing quality to this off-center alt-pop (as in the metaphorical twists of the whimsical "I Like Birds"). It's not at all edgy or driven like the college radio hit "Novocain for the Soul" or the hip-hop-inflected urban tragedy of "Susan's House," from the band's 1996 breakthrough debut. Peter Buck of R.E.M. and Grant Lee Phillips of Grant Lee Buffalo round out the band. But this is very much one man's vision, and E's skewed take on life has a way of creeping into your psyche.
Greg Cahill
---
The Rev. Horton Heat
Spend a Night in the Box (Time Bomb)
FRONTMAN Jim Heath (a.k.a. the Rev. Horton Heat) seems hell-bent on conjuring up the devil with his scorching brand of rockabilly: a raucous, rebellious country stew of Johnny Cash honky-tonk souped up with more than a pinch of swamp, surf, and blues. He made a name for himself on the juke-joint circuit for songs about beerin' and boozin' and seems proud there are only six songs about drinking on the band's seventh album. "Sue Jack Daniels" does blaze with the hard-drinkin' style that made the trio a rowdy favorite, but other songs take a different angle, like the kick-in-the-pants "The Girl in Blue" and the racy "Whole Lotta Baby" and "I'll Make Love." "The Bedroom Again" tackles divorce, while "It Hurts Your Daddy Bad" is Heat's take on fashion models who sell their souls for the glamour of the fast lane. Spend a Night in the Box was produced by Butthole Surfers guitarist Paul Leary and recorded at Willie Nelson's Pedernales Studios; the title pays tribute to Cool Hand Luke.
Sarah Quelland
---
The Bloodhound Gang
Hooray for Boobies (Geffen)
THESE TWISTED weirdos write silly, stupid, and irreverent songs with obnoxious lyrics, deviant humor, and expert pop-culture references (including Pac Man, Shrinky Dinks, Falco, and Pee-wee Herman). The music ranges into punk, pop, metal, New Wave, rap, hip-hop, and honky-tonk; the only common thread is a severe punk-rock attitude. The aggressively adolescent band incorporates clever samples, including a junky Casio beat and a snippet from The Simpsons. The Bloodhound Gang often appropriates famous songs and lyrics for its own use, incorporating Frankie Goes to Hollywood's "Relax" into "Mope" and rewriting lyrics from Pink Floyd's "Another Brick in the Wall, Part II" into "Right-Turn Clyde." The band's single "The Bad Touch," with the lyrics "You and me baby ain't nothin' but mammals/ So let's do it like they do on the Discovery Channel," is getting play across the country.
S.Q.
---
Rollins Band
Get Some Go Again (DreamWorks)
THE NEW ROLLINS BAND has punk/spoken-word icon Henry Rollins leading the L.A. blues-rock power trio Mother Superior, and Hank says it's the first time he's really been in a "rock" band. That's not quite accurate, in light of Rollins' stint as vocalist for the seminal L.A. hard-core act Black Flag and the arty metal-jazz of the original Rollins Band. But that does give an idea of the vigor Rollins feels in his fresher, more streamlined material. His lyrical targets are no surprise (critics, weak-ass rockers, the image establishment), but Mother Superior is brick-hard and searing, with a sound so loud and clear that on some solos you can actually hear the pre-distortion sound of the pick hitting the string. As if to humble himself, Rollins brings in guest guitar gods Scott Gorham (of Thin Lizzy, for a cover of that band's "Are You Ready?") and Wayne Kramer (of the MC5, for a 14-minute hidden-track chicken-scratch 'n' sax rant). Rollins' first rock band? Hardly, but one of his best.
Karl Byrn
---
Dogs on Valium
Something for Everyone (ALM)
ROHNERT PARK-BASED rockers Dogs on Valium have lots going for them--a strong pop-rock sound, a second release, industry connections, a Bay Area fan base--but perhaps the band should consider a new name. Their sound is nothing like the perverse wackiness and punkish humor implied by their moniker; instead, D.O.V.'s strengths are melodic soft-rock hooks, emotion-laden choruses, sincere lyrics, and tight professionalism. Something for Everyone lives up to its promise and includes Latin sounds and live material, and yet, with their sweet, crisp echoes of Chicago and Elton John, it's hard to imagine . . . Dogs on Valium?
K.B.
---
Spin du Jour:
Penelope Houston
Once in a Blue Moon (Innerstate)
SINCE HER DAYS as the lead singer/songwriter for the seminal '70s San Francisco punk band the Avengers, Penelope Houston has whiled away her days at her day job with the public library and eeked out a critically acclaimed career as a critic's darling. The New York Trouser Press Record Guide has proclaimed her "the archetypal indomitable rock 'n' roll woman." This decidedly tender rarities collection offers intensely personal demos, outtakes from Houston's recent flirtation with a major label, and reworkings of punkish folk material that find the onetime punk firebrand wistfully contemplating gardening and life. Hey, we all knew that the punk generation was going to hit middle age, but who knew it would sound this introspective?
G.C.
---
[ Sonoma County | MetroActive Central | Archives ]