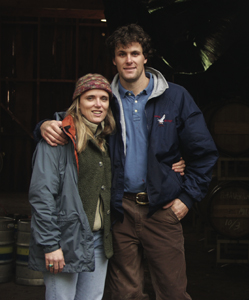 Lightly on the Land: Terra Sonoma's Karin Warnelius and Justin Miller make verjus so as not to waste any bounty.

Good 'n' Sour Grapes

Terra Sonoma's verjus wisely strips the vine

By Ella Lawrence

The French love of wine and mustard is sometimes thought to find its highest expression in that product we know as Dijon mustard. Yet the key ingredient in that most beloved condiment is unfermented, unripe grape juice. Known during the Medieval era as the "mother of all sauces," the liquid called verjus ("green juice") has uses that range from meat tenderizer to cocktail base to cure for indigestion, and is slowly enjoying a world-wide revival.

The art of producing and using verjus, while practiced for over 800 years, was nearly lost in the Middle Ages, when lemons were introduced to France and vinegar and salt became more important to culinary tradition than the nonfermented juice of unripe green grapes. The juice comes from immature fruit with high acidity, and because of its versatility, it can be used in the same manner--to heighten flavor--as vinegar or lemon juice.

Because verjus has such a delicate flavor, it can also be used in larger quantities for cooking than either vinegar or lemon juice. The elegant juice avoids the tartness of vinegar and the sharpness of lemon juice, and doesn't mask flavors; rather, it enhances them, adding complexity to whatever dish it's being used in. The greatest advantage, from a gourmand's perspective, is that verjus shares the same acid-base as wine. When truly quality wines are being served with a meal, food and sauces cooked with verjus will not overpower the wine as a vinegar will.

Verjus has been used as a substitute for vinegar for centuries. In 1856, Burgundian Jean Naigeon utilized his region's plethora of unripe grapes and mustard plants that grew in the famed vineyards, and substituted verjus for vinegar in prepared mustard. His condimentary tomfoolery resulted in a lower-acidity mustard, and today Dijon is not only one of the oldest but one of the most widely used condiments in Western culture. Historians such as Carolyn Smith-Kizer speculate that the grapes for verjus were probably picked by peasants who were allowed to clean the vines of second-growth grapes unwanted by the landed gentry.

While peasants may have instigated the idea of using unripe grape pressings for culinary purposes, gourmands today have taken it to the next level. The Alexander Valley, respected for its big Cabernets and Merlots, is home to one of the few producers of verjus in the United States. Winegrowers Karin Warnelius and Justin Miller of Terra Sonoma wanted to be able to do something with their unripe fruit other than composting it back into the field.

"We're very into using all of the land and not wasting anything," Warnelius says. "Our philosophy is to use what we have on the land, and not take too much. For us to start making verjus was a natural step."

The growers, whose families have been tending the same 65-acre ranch for more than 50 years, are involved in the Slow Food movement, the Italian-born culinary revolution whose principles include growing food in small quantities, growing only what is native to a particular area, and slowly savoring the cooking and eating of meals. Growers apply Slow Food principles to their farming, shunning the use of fertilizers and overwatering to produce a giant fruit.

"We thought, 'There's got to be something we can do with this [unripe] fruit,'" Warnelius elaborates. "We'd found some verjus from Napa Valley, and decided that would be the perfect use for it."

The growers thin the fruit when it's going into veraison (a French term referring to the color change that happens as a grape is ripening), and the unripe fruit is pulled off the vine to give the more promising fruit more room to mature.

The grapes are picked when their brix (another French word referring to the sugar level in the grapes on the vine) registers at 12 to 14, which is always in the summer but varies in each area of the vineyards. Although it is all valley floor, the Alexander Valley boasts numerous soil types. Terra Sonoma uses different clones-- or root stock, often French, onto which different vines are grafted, a common practice in viticulture today--in all blocks of their acreage, which contain Cabernet Sauvignon, Merlot, Chardonnay and Cabernet Franc grapes, and the soil drains differently from row to row, depending on the particular area.

The intricate details that go into growing and harvesting the wine grapes are passed along in the making of the verjus--after all, it's nearly the same process. "For us, the goal is to have the fruit grow evenly," Warnelius elaborates. "Good winegrowing is all about balance. When we're thinning, we don't just take everything from one area and make our verjus, it's always a mixture of what needs to come from a certain block."

The grapes are all hand-thinned, a rarity in these machine-heavy days of farming. The whole, unripe berries are run through the crusher/de-stemmer, a bin with a rotating blade that separates the grapes from the stems and breaks the skin, producing a pure juice called free-run juice. After the unripe grapes go through this process, they are put directly into the wine press, which is also hand-operated. A gentle pressure is exerted, ensuring that the tannin from the skins and the seeds are evenly extracted, and giving the juice a nice acidic structure without bitterness.

The juice settles for a few days in stainless steel tanks, then is lightly filtered and stabilized with sulfur, then packaged.

"We wanted a little floral, sweeter taste, which is complimentary to so many kinds of recipes," Warnelius says. "Some of our juice is a little sweet in the initial mouth contact, and then you get that nice acidity on the edges of your mouth, which was exactly what we were trying for."
---

Laura Chenel's Goat Cheese Salad Dressing

This creamy salad dressing is adapted from Fusion Napa Valley, another local verjus producer. Fusion suggests using crisp sturdy greens such as romaine, radicchio or endive for this dressing.

4 ounces Laura Chenel chèvre
2 tbsp. sour cream
1/8 tsp. garlic, minced
1 tsp. fresh thyme, finely chopped
2 tbsp. parsley, chopped
pinch of black pepper
1/3 c. verjus

"We wanted a little floral, sweeter taste, which is complimentary to so many kinds of recipes," Warnelius says. "Some of our juice is a little sweet in the initial mouth contact, and then you get that nice acidity on the edges of your mouth, which was exactly what we were trying for."

[ North Bay | Metroactive Central | Archives ]