[ MetroActive Central | Archives ]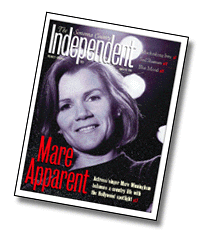 This Week


April 4-10, 1996

Cover
Georgia on Her Mind:
Mare Winningham plays folk singer
both on and off the screen.

News
Raking Muck: Project Censored
into its second generation.

Arts & Entertainment
Movies: Reviews and show times for Sonoma County.

The Shaman of Soil: Master grower Bob Cannard bestows his magic touch on veggies for California's finest restaurants.

Original Sin: Helen Ellerbe probes the dark side of Christianity in a new book.

Deep Blues: John Lee Hooker, the elder statesman of the blues, makes a Sonoma appearance.
---
This page was designed and created by the Boulevards team.
Copyright &copy 1996 Metro Publishing and Virtual Valley, Inc.